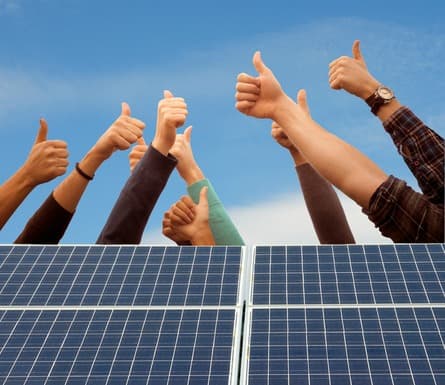 Utility company Xcel Energy has announced seven new community solar gardens, totaling 32 MW, are now generating power from the Minnesota sun. The solar gardens are part of a larger project that will total approximately 96 MW throughout the Twin Cities metro area and greater Minnesota. Xcel Energy, BHE Renewables and Geronimo Energy are working together to bring the project online, giving Xcel customers more solar energy options.
"We're proud to work with dedicated partners as we bring more solar energy options to our customers," says Christopher Clark, president of Xcel Energy – Minnesota. "Xcel Energy is on a path to deliver a third of our energy from renewables by 2030, and solar plays a role in achieving this ambitious goal."
According to Xcel Energy, community solar gardens reflect Minnesota's growing commitment to renewable energy. The solar gardens are an alternative to private solar panels; residents, business owners, nonprofits and municipalities may purchase subscriptions to a solar garden without having to install solar panels on their own roof or property.
"The solar garden sites are moving forward because of the many people and organizations that have strongly supported them," comments Richard Weech, senior vice president and chief financial officer of BHE Renewables. "We believe subscriber-based programs will be an important component of the clean energy future for Minnesota and will have a positive impact on the state's economy and environmental footprint."
"Geronimo Energy is proud to be investing in our home state through Xcel Energy's Minnesota Solar*Rewards Community program," adds Blake Nixon, president of Geronimo Energy. "With over 1 million solar panels in operation or currently being installed in Minnesota, we are pleased that our projects have created new jobs and positive local economic impacts, such as landowner payments and increased tax revenue."
Each of the seven new gardens will produce between 3 MW and 5 MW of electricity for use by all Xcel Energy customers. Geronimo Energy developed the gardens, which are now owned and operated by BHE Renewables.
Xcel Energy notes it currently has 57 MW of community solar gardens online at 17 project sites as part of its Solar*Rewards Community program. Using the Solar*Rewards program, Xcel Energy customers purchase a subscription to a solar garden in exchange for a credit on their monthly bill. The Minnesota Public Utilities Commission approved the program in early 2014 to improve access to renewable energy for businesses and residences in Minnesota.
Xcel says its plan is to have nearly 10% of its electricity generated from solar by 2030. The company will also have 262 MW of large-scale solar online by the end of 2017.