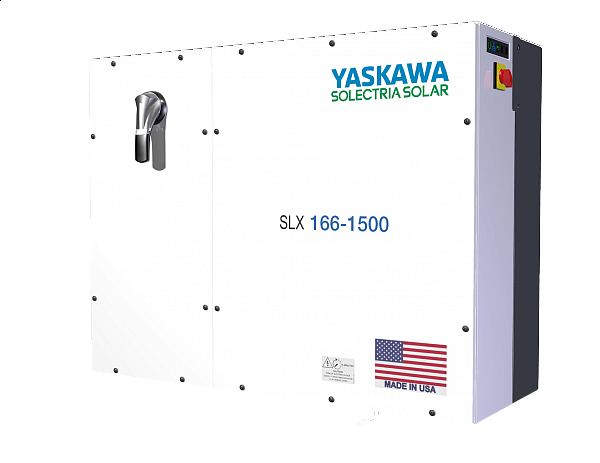 Yaskawa Solectria Solar has introduced its new Solectria SLX line of American-made inverters for commercial- and utility-scale applications.
Yaskawa Solectria Solar's SLX inverters are engineered and manufactured in the U.S., and the company says each individual component of the inverter is carefully selected and tested for long-term performance reliability. The SLX 1000 inverters are offered in 60 kW and 65 kW power levels, and the SLX 1500 inverters are offered in 125 kW and 166 kW power levels. The company says the products offer wireless HMI and connectivity, reducing the cost of installation and commissioning, and various options for the integrated combiner include fused or unfused inputs, as well as PV connectors.
"Yaskawa's quality and reliability testing are unlike anything the PV industry has ever seen.  Since Solectria Renewables was acquired by Yaskawa America in 2014, we have incorporated Yaskawa's quality methodologies into our PV inverter design and production processes," says Phil Vyhanek, president of Yaskawa Solectria Solar. "The SLX 1000 and SLX 1500 have endured testing to ensure that each individual component, as well as the finished product, will last beyond 20 years. PV project developers, owners, and EPCs will appreciate the new level of inverter reliability and durability, which drastically lowers the cost of installation and O&M, while increasing power production."
Mike Knapek, CEO of Yaskawa America Inc., adds, "This flagship, premium inverter line reflects the high quality and reliability that is built into every other Yaskawa product."
Yaskawa Solectria Solar notes it will be exhibiting at the upcoming Solar Power International trade show in Las Vegas next week and will showcase the SLX 1000 and SLX 1500 inverters in booth #3783.