The National Electrical Code (NEC), published by the National Fire Protection Association (NFPA), is the most essential of the codes and standards from the standpoint of solar energy system design and construction. This is natural, given that electricity generation is the whole point of any solar photovoltaic project. The code is universally accepted in the U.S., although states typically do not adopt the most recent version in a uniform way.
Thus, universality is not all it is cracked up to be.
"The fact that states implement codes at different rates is a challenge for an organization trying to implement a national standards program," says Richard Lawrence, executive director of the North American Board of Certified Energy Practitioners (NABCEP), headquartered in Clifton Park, N.Y.
NABCEP does not provide any actual training, but it sets guidelines for third-party training programs and offers testing and certification for how people have received training according to those guidelines. According to Lawrence, his organization tracks code changes closely and then decides when to incorporate those changes into its national testing regime so as to provide the most benefit to installers.
"At some point, we have to start testing on the new version," he says. "We give it at least a year after publication before we do this, which gives states the opportunity to actually adopt it, and it gives people the opportunity to get their training and get up to date."
The NEC has been around a long time and has a major impact on how solar installations are performed. There is a lot of infrastructure around teaching people those code changes. However, Lawrence says, additional codes with which PV installers might not be as familiar are starting to come into play.
In particular, the structural International Building Code (IBC), published by the International Code Council, and the attending "Minimum Design Loads for Buildings and Other Structures" document published by the American Society of Civil Engineers are increasingly becoming essential for PV system designers to know (see "PV Structural Requirements: Coming To A Building Code Near You," Solar Industry, January 2016).
The issue, Lawrence says, is not that structural considerations in PV design and installation have been neglected. Rather, the PV industry has accelerated so rapidly in the past decade that structural codes and standards have struggled to catch up. In the interim, a rather significant gray area has persisted where codes and standards with respect to PV structures and installations have been open to wide interpretation.
Going forward, the structural aspects of a PV installation are liable to receive as much scrutiny from authorities having jurisdiction (AHJs) as the electrical side. Not only will structural components, such as racking and mounting systems, have to conform to evolving - and increasingly rigorous - codes and standards, but all balance-of-system (BOS) components may be scrutinized in new and possibly surprising ways.
Who's the BOS?
On the procurement side, engineering, procurement and construction contractors (EPCs) must ensure that the products they specify will conform to relevant codes and standards. Jitendra Morankar, director of solar and energy storage engineering for Broomfield, Colo.-based RES Americas, says the EPC has significant authority to ensure that the manufacturers it specifies for projects are, themselves, in compliance with local codes and standards. This is because the EPC has the responsibility for the project.
"We are providing the warranties on these projects," Morankar says. "We are doing the engineering and stamping the drawings. If we are doing construction, we are giving construction warranties. We are also giving the performance guarantees on the project. So, if you keep these in perspective, if we don't design a project to the high standard, we are going to pay the price somewhere."
Morankar points out that the EPC has the authority to make sure its suppliers are not misinterpreting the relevant codes in their favor. The trick is to make sure that this remains the case through all stages of the project, from concept through commissioning.
"The usual situation is that the development has already been done on a project, and the power purchase agreement (PPA) is in hand," he says. "The commissioning is scheduled for two years from now. We get on the design table, and we start looking at potential code changes."
According to Michael Weimer, senior electrical engineer at RES Americas, the BOS components that are most likely to wind up being subject to a code change are the ones that are the most complex and have the largest room for improvement over time. Historically, he says, this means inverters.
"The inverters are very complex machines," Weimer says. "They are constantly changing. Somebody is always coming up with a new way of doing something. Eventually, the code catches up to those changes. We can usually lean on the manufacturers to learn what pieces of any code changes affect their products because they have customers wanting to make sure that they are not going to buy a product that creates a code problem for them."
With the increasing importance of structural codes, Morankar says racking, mounting and tracking systems are becoming more vulnerable to such changes. Moreover, these changes can have a major impact on the profit margins of a project.
For example, the EPC might have selected certain tracking systems or mounting configurations as the basis of its PPA. If a code change requires a higher standard for the wind loading on a tracker or mounting system, there is an impact on the bottom line because the PPA is dependent on output from a specific tracker configuration or fixed-tilt mounting. A change in code requires engineering changes - a new foundation, more steel on the structures, a new bill of materials. This all adds cost.
"We also have to go back to the suppliers, which may have a different solution for or a different interpretation of the new requirement," Morankar says. "This is the situation where we have the authority to make sure that we are selecting the right solution that is complying with the code. Through our interaction with vendors and suppliers of products, we become very knowledgeable in specifying them for projects to remain in code. Sometimes, it's enough for us to change our specifications and have the vendor come into compliance with them."
Ben Walter, West Coast director of engineering for Borrego Solar, says code changes can easily alter the suitability of a particular BOS product for a project. At the same time, the manufacturers have a vested interest in making sure that their products remain in code.
"Because of where they are earlier in the supply chain, I think manufacturers have as much or more incentive, even, to keep up with evolving codes and standards," Walter says. "They want to be able to sell the rack that they just spent a million dollars developing."
According to Walter, the solar industry is becoming more mature, so the risk of this happening is diminishing. New codes aren't coming out of the blue. Most manufacturers are at the point where they are ahead of the codes and standards.
"The issue is large enough. People are talking about it," he says. "Most manufacturers have their fingers on the pulse for the same reason that EPCs do - they don't want to be caught flat-footed."
There are situations, such as the CalFire regulations, that require modules and racking to be rated together (see "Manufacturers Must Get Ready For New PV Fire-Testing Standards," Solar Industry, August 2015). Although this is currently a California requirement, similar codes and standards can be expected nationwide in due time. Walter says that this is a good example of when Borrego is able to work with its manufacturer partners to ensure that the module combination is based on the right testing.
"We can say, 'We're going to use module manufacturer X over here. Have you run those tests?'" he says. "'If not, how do we get there?'"
Remember the 'E' in EPC
EPC firms spend a lot of time and resources on managing how evolving codes and standards - electrical and structural - affect their projects in the various jurisdictions in which they operate. Eric Goisa, engineering project manager at Constellation, says his firm has 30 documents outlining the standards of its processes and procedures for completing a typical solar project. Codes and standards are indicated in the EPC documents according to the adopted codes of the local jurisdictions.
"Three years ago, these standards - and the people in charge of implementing those standards - underwent a rigorous internal review at Constellation," Goisa says. "The company passed this audit, after which investment in its solar business was greatly increased. Small changes to relevant codes and standards do not alter our processes and procedures."
Having developed these processes and procedures, the company devotes a lot of attention to maintaining and updating them as a continual process. The third-party engineers and contractors are required to keep up to date with the codes as implemented by local jurisdictions. Relevant codes and standards and modifications are indicated in the specifications of the third-party engineers, which are reviewed by the developers, contractors and Constellation in its role as EPC.
"All design documents are reviewed by Constellation design development engineers and construction management staff at several stages of development," says John Latrobe, a Constellation project engineer.
Sam Roushar, senior civil engineer at RES Americas, says remaining code-compliant is a constant process and one that requires extreme diligence. Anytime there is a code change, one of the first things the company does is go back through all of its specifications and update them with the changes that have occurred. The development cycle of most projects means that some type of code change is almost a certainty at some point.
For instance, let's say RES Americas starts designing a project that is going to be built in 2018. Design flexibility will be critical so as to accommodate any changes in standards and codes. Also, the company needs to be up to date on understanding what changes are coming.
One of the ways to do this is to have engineers sit on the committees that are developing the codes and standards. This provides insight into what is coming down the pike. Another important factor is to have local experts on hand to help interpret changes.
"The code requirements often vary from one authority having jurisdiction to another," Roushar says. "Part of my job is to understand each code. We basically have to prepare designs to whatever the adopted code is by region or by jurisdiction. Organization is definitely key in this."
Even if the same basic code is in place, the AHJs may handle them differently. AHJs follow different processes by region, in part, because there are different challenges by region - seismic, wind loads and snow loads, for example.
According to Borrego's Walter, it is important not to look upon the AHJs as opponents. "Establishing a rapport with the AHJs is obviously important," Walter says. "They are the enforcers of these codes."
The way in which AHJs exercise their authority also varies by region. Massachusetts, for example, relies on an affidavit process, whereby an engineer will come out at the end of the job and legally sign off on it, essentially taking a lot of the onus off the building department. In California, there is no affidavit. The engineer isn't legally obligated to sign a specific document. But, as a result, the AHJs absolutely comb through your project in a lot more detail.
Walter relates a situation in which Borrego had a disagreement with an AHJ regarding some fire-setback requirements on a carport system. The company had built a carport structure that was fairly close to a building. According to Borrego's interpretation of the setbacks and the combustion and burn ratings of the various structures, it was acceptable to install the carport system 10 feet away from the building. The AHJ disagreed - 15 feet was the number.
"There was some language in the code that was fairly soft," Walter says. "This was one of those cases where it was the inspector who brought it up, not the reviewer. So we were already in the field drilling caissons. We were able to work through this with the AHJ and get approval based on our engineering interpretation. If it had broken the other way, we would have had to move that structure, and it would have had a major financial impact on the project."
The moral of the story is, don't be more confrontational than you need to be. Disagreements mostly involve just working through different interpretations.
"It's important to be able to bring engineering knowledge of the different codes in order to handle those situations that might force changes," Walter says. "The last time you want to make a change is when you're in the field and the inspector is telling you that you're doing something wrong."
System Design & Engineering
EPCs Field Rapidly Evolving Codes And Standards
By Michael Puttré
Code changes may affect the selection of balance-of-system components - and the bottom line.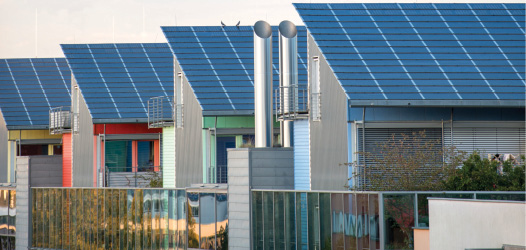 si body si body i si body bi si body b dept_byline
si depbio
si sh
si subhead
pullquote
si first graph
si sh no rule
si last graph
si sh first item
si sh no rule
sidebar_headline