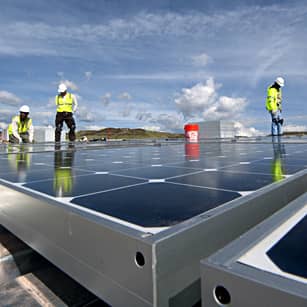 Average pricing in October for crystalline silicon (c-Si) photovoltaic modules declined in nearly all worldwide regions – primarily because of weak installation demand in Germany, according to the IHS PV Module Price Tracker from information and analytics provider IHS.
The average price per watt for c-Si PV modules declined by a range of 1.9% to 3.5% from September to October in the European Union (EU), China, the U.S., Japan and the rest of the world.
The only major country to buck the trend was Canada, where prices rose by 5.5%. Average module prices in Canada were $0.91/W in September and $0.96/W in October.
'European demand for PV modules dropped off in October, primarily due to developments in the solar powerhouse of Germany,' said Glenn Gu, senior analyst for photovoltaics at IHS. 'After PV system installations surged in September, the German solar market decelerated in October.
'When combined with weakening conditions in other EU countries, including Greece and Bulgaria, Germany's slowdown had a major impact on module demand and pricing in the European Union and throughout the world,' Gu continues.
Regional variations
In October, Canada maintained the highest pricing of all regions, at an average of $0.96/W. At the other end of the spectrum was China, where pricing averaged $0.58/W – down from $0.58/W the previous month.
The biggest decline in costs in October occurred in the U.S., where Chinese-made c-Si modules experienced a 3.5% decline in pricing to $0.69/W – down from $0.71/W in September, according to the report.
Much of this price decline was due to plunging costs among third-tier Chinese suppliers. Module prices for these suppliers dropped by nearly 5% in October.
Prices are expected to decline during the period from November 2012 through January 2013, IHS adds.
Chinese c-Si modules sold in Europe are expected to decline by 1.1% in November, while module prices shipped within China will decline by a larger margin. Looking ahead, 2% to 5% price declines are expected during the next three months in all regions.
Although demand for PV modules is rebounding, pricing has yet to follow, IHS says.
Emerging markets are expected to increase their orders for c-Si modules in 2013. However, most of these countries are demanding cheaper modules in order to increase their return on investment from installations of new systems. Because of this trend, prices are set to continue to decline at least through early 2013.
More information on the PV Module Price Tracker is available here.
Photo credit: National Renewable Energy Laboratory