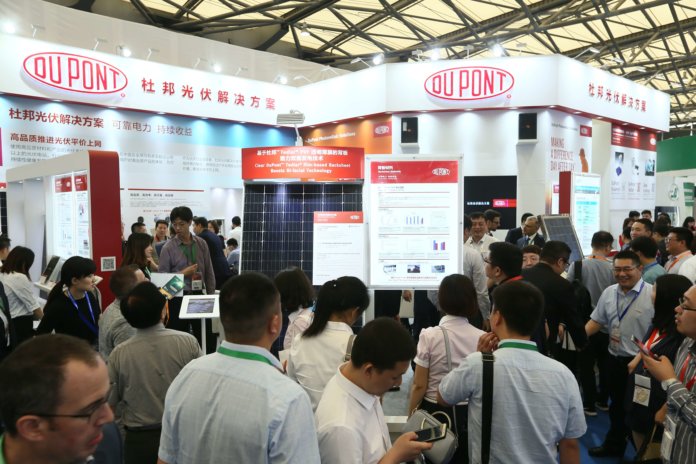 As an industry leader in solar solutions that delivers proven power and lasting value for the industry, DuPont Photovoltaic Solutions (DuPont) recently showcased a broader portfolio of innovative materials and customer collaborations during the 2018 SNEC International Photovoltaic Power Generation and Smart Energy Exhibition.
"DuPont aims to bring high-efficiency, high-reliability material solutions to our customers through continuous innovation to enable sustainable growth of the PV market and attractive return on investment for solar power investors," said Chuck Xu, global business director, DuPont Photovoltaic & Advanced Materials.
One of the new highlights is the clear DuPont Tedlar PVF film, an ideal backsheet material for bifacial modules that can generate greater power output. Compared to a double glass module structure, the breathable, clear Tedlar PVF film-based backsheets allow for higher reliability, lower operating temperature, up to 30% lighter weight, and a lower module installation cost.
The clear Tedlar PVF film is expected to be a drop-in with most current manufacturing processes for backsheets and modules with little, if any, additional investment in equipment needed for most manufacturing processes.
DuPont also continues to be an industry pacesetter for innovation in the solar industry by introducing leading-performance metallization pastes. Solamet PV21x, the latest front-side silver, is designed to enhance most mainstream cell technologies. Solamet PV21x delivers better contact performance and high aspect ratios that enable cell efficiency enhancement of >0.1% and maintain high throughput in mass production.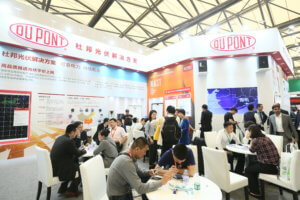 Visitors at SNEC saw the TwinPeak 2 Series, a multi-PERC module from REC that showcases power output up to 300W. Also showcased was a multi c-Si cell from TATA Power Solar achieving >19% efficiency. Another spotlight was on IBC, the one paste solution to contact both P and N emitters, which has been demonstrated in mass production by SHARP.
Also, with the completion of the merger between Dow and DuPont, DuPont Photovoltaic Solutions is proud to broaden its PV offerings by integrating the Dow Corning brand portfolio of solar silicone solutions, including sealants, adhesives, potting agents, encapsulants and electrically conductive adhesives.
These state-of-the-art solar silicone solutions have enabled reliable solar systems, with an increase in durability and efficiency. For instance, BP Solar has developed a field-tested solar panel that demonstrates over 25 years of proven performance using silicone encapsulants from the Dow Corning brand.
About DuPont Photovoltaic and Advanced Materials: DuPont Photovoltaic and Advanced Materials represents a portfolio of product solutions with over 40+ years of service to the solar, aerospace, automotive and other industries. Our products deliver proven power and lasting value for the fast-growing photovoltaics sector, including DuPont Solamet metallization pastes, DuPont Tedlar films, and photovoltaic silicones. The growing portfolio of DuPont Advanced Materials thick film compositions are used in a variety of electronic applications in the automotive, biomedical, industrial, military, telecommunications and electronic wearables markets. To learn more about the PVAM business, please click here and here.
About DowDuPont Specialty Products Division: The Specialty Products Division of DowDuPont is a global innovation leader, with technology-based materials, ingredients and solutions that help transform industries and everyday life. Our employees apply diverse science and expertise to help customers advance their best ideas and deliver essential innovations in key markets, including electronics, transportation, building and construction, health and wellness, food and worker safety. DowDuPont intends to separate the Specialty Products Division into an independent, publicly traded company. More information can be found here.
About DowDuPont: DowDuPont is a holding company comprising The Dow Chemical Company and DuPont, with the intent to form strong, independent, publicly traded companies in agriculture, materials science and specialty products sectors that will lead their respective industries through productive, science-based innovation to meet the needs of customers and help solve global challenges. For more information, please visit dow-dupont.com.
This content is sponsored by DuPont