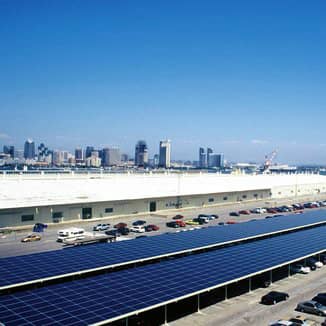 Now that the news of San Diego Gas & Electric's (SDG&E) new rate proposal – and its potentially disastrous effect on the local solar market – has drawn nationwide attention, several new questions are emerging.
Last month, SDG&E requested that the California Public Utilities Commission (CPUC) approve a new plan under which – among other changes – net-metered PV customers would be subject to a 'network use charge' designed to divide operational costs among solar-owning and non-solar-owning customers more equitably.
As opposition to this proposal grows both within and outside the PV installation sector, experts continue to try to quantify the impact of SDGE's plan and examine its legal and technical underpinnings. A decision on the case is not expected until next March, but stakeholders have begun number-crunching and phoning legal counsel in earnest in order to assess the new solar cost equation that the proposal would create.
According to local installers, the network use charge would make the economics of system ownership impractical and harm the PV business in SDG&E territory. Proposal opponents also fear that if SDG&E gets its way, the utility's plan will set a dangerous precedent for other utilities in California and beyond – effectively throttling the U.S. distributed-generation market.
For both sides, discussion of the proposal raises the following three key questions:
– What specific costs to the utility is the network use charge expected to cover?
– Does the proposal violate California's net-metering law?
– How severe will the fallout truly be in the local PV installation market?
SDG&E has identified four specific impacts of PV net metering on its grid, according to an analysis by EnerNex, an electric power research and consulting firm. The network use charge is designed to recover costs associated with 'equipment and maintenance impacts due to reverse power flow, equipment and maintenance impacts due to operational voltage regulation, voltage fluctuations due to intermittent generation export to the system, and distribution system capacity impacts.'
'The maintenance is clearly undeniable,' Kay Stefferud, principal consultant at EnerNex, tells Solar Industry. 'The distribution system needs to be maintained whether the solar power is flowing or not.'
Therefore, the network use charge is designed to 'recover all customer use of the distribution grid on an import and export basis,' explained Cynthia S. Fang, electric rates manager for SDG&E, in testimony accompanying the filing.
But the exact costs that the utility incurs as a result of hosting net-metered PV customers on its grid have proven to be difficult to quantify.
Daniel Sullivan, founder and owner of San Diego-based residential and commercial PV installer Sullivan Solar, maintains that SDG&E's claims of grid impact due to net-metered PV have been exaggerated. He tells Solar Industry that at a recent stakeholder meeting, he directly asked the utility whether it has incurred any costs to date for the 100 MW-plus of installed solar power currently on SDG&E's grid. The response, he said, was no.
'It is not clear, from what has been filed, what these 'additional costs' are,' adds Sanjay Ranchod, director of government affairs and senior counsel at national solar integrator SolarCity.
'Part of what's going on is that the utility has concern about an increasing number of its customers going solar and, therefore, not demanding as much electricity from the utility,' he says. 'The utility has fixed costs that it needs to recover.'
Additional disagreement centers on whether the benefits that the utility may reap from customers' installed solar power systems have been properly factored into the equation. Ranchod points out that net-metered customers' abilities to offer power to the utility at times of peak demand, for instance, is not being weighed in SDG&E's determination.
Existing net-metering law prohibits utilities from imposing new charges exclusively on solar customers. So, instead, SDG&E is creating a loophole by applying the network use charge to all customers, according to installers.
'This is a legal attempt to subvert the intent of the state,' says Ranchod. 'It's pretty clear what the legislature intended when they established net metering. There is no question that state law is being violated.'
Alternately, the proposal can be viewed simply as a universal re-allocation of the utility's distribution charges – an action that may or may not break net-metering laws, Stefferud says.
'SDG&E's proposed network use charge would be assessed based on the average hourly amount of power exchanged between the customers' solar generation and the distribution grid,' EnerNex wrote in its analysis. 'The charge would be calculated by multiplying the average absolute hourly power flow in kilowatts by proposed rates for distribution demand and public purpose programs.'
Per the company's calculations, an average hourly power flow of 1 kW, for instance, would incur a monthly charge of $35.44 under the current proposed rates for 2014. For PV-owning customers who had counted on paying little to nothing to their utility each month, the new charges could destroy system economics, according to Sullivan Solar, SolarCity and other installers that oppose SDG&E's proposals.
Stefferud, on the other hand, notes that the PV market impact may not be as drastic as feared. 'Solar customers would probably pay a lot more, but no one really knows yet how much export and import goes on every day,' she points out.
She believes that would-be system owners may be deterred by the realities of their new projected costs, others – especially those whose motivations are chiefly environmental rather than financial – will continue to purchase net-metered PV arrays.
But for an industry that relies on policy predictability and clear communication of ownership benefits to the public, SDG&E's network use charge could pose broad threats to PV system sales.
'It creates a huge problem for marketing distributed-generation solar,' Ranchod explains. 'Net metering is easy to explain – it's widely understood and accepted. With the rate change case, it would be very difficult to project charges. You would need smart metering records of hourly usage.'
'Solar installers have been selling based on the rate case,' agrees Stefferud. 'This would make it more difficult to estimate charges. Any uncertainty hurts their ability to sell systems.'
Photo: a 942 kW PV carport at the Naval Air Station North Island in San Diego. Photo credit: SunPower, via the U.S. Department of Energy's National Renewable Energy Laboratory photo archive.