Total corporate funding into the global solar sector in the first quarter of the year came to $2.8 billion, representing a year-over-year increase of about 10% from the first quarter of 2018, when $2.5 billion was raised, according to a new report from Mercom Capital Group.
In its report, Mercom, a global clean energy communications and consulting firm, focuses on funding and merger and acquisition (M&A) activity for the global solar sector in the first quarter of 2019.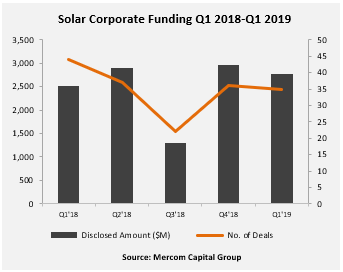 "Funding levels were up slightly year-over-year in Q1 2019, but the solar industry was on a much stronger footing at the beginning of this year compared to a year earlier, when the industry was hit with tariffs, subsidy and installation cuts in China, and a module oversupply situation," states Raj Prabhu, CEO of Mercom. "The market is upbeat, and solar equities rebounded strongly in the first quarter. However, China is still a wild card, and depending on its 2019 policy direction, it could have a significant impact on the solar industry."
Global venture capital (VC) funding for the solar sector in Q1 2019 totaled $176 million in 13 deals, compared to $161 million raised in 22 deals in Q1 2018. The majority of VC funding raised in Q1 2019 went to solar downstream companies, with $111 million in seven deals.
The report says the top VC deals in the first quarter of 2019 were $65 million raised by Yellow Door Energy, $41 million raised by Oxford PV, $37 million secured by BBOXX in two funding deals, $20 million raised by Aurora Solar, and PEG Africa's $5 million deal. A total of 28 VC investors participated in solar funding in Q1 2019.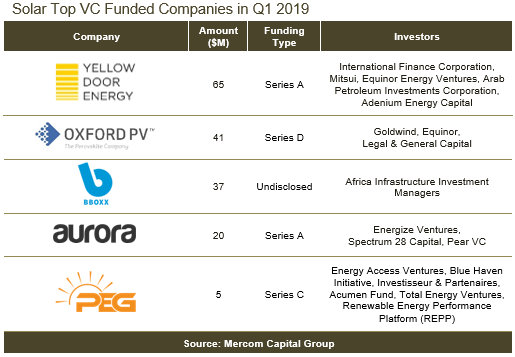 Solar public market financing came to $247 million in three deals in Q1 2019, compared to $103 million raised in four deals in Q1 2018. Ginlong (Solis) Technologies had a rare solar IPO in Q1 2019.
Announced debt financings came to $2.35 billion in 19 deals during Q1 2019, compared to $2.3 billion in 18 deals in Q1 2018. Most of the debt raised in Q1 2018 was by solar downstream companies. In addition, there were three securitization deals in Q1 2019.
Announced large-scale project funding in Q1 2019 touched a record high with $5.68 billion in 43 deals, compared to $2.8 billion in 47 deals during Q4 2018. In a year-over-year comparison, $2.7 billion was raised in 57 deals in Q1 2018.
Further, there were two residential and commercial solar funds announced in Q1 2019 for $207 million, while there were no deals recorded in this category in Q4 2018. During the first quarter of 2018, $400 million was raised in one deal, according to the report.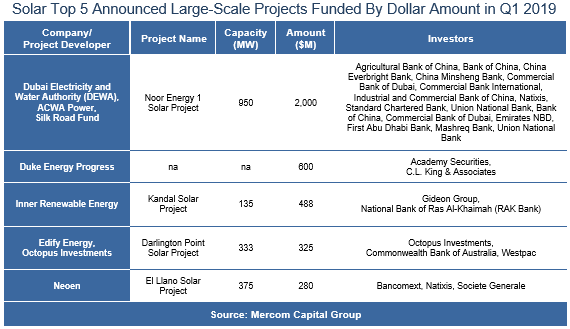 M&A activity was steady, with 18 solar transactions in Q1 2019, compared to 19 transactions in Q1 2018. Of the total 18 transactions, 14 involved solar downstream companies. There were two transactions apiece involving equipment manufacturers and balance-of-system companies.
Led by investment firms, about 5.9 GW of solar projects were acquired in Q1 2019, compared to 4.8 GW in Q4 2018 and 7.7 GW in Q1 2018.
Lastly, there were 18 investment firms and funds that acquired 20 projects in Q1 2019, totaling 3.5 GW, followed by 14 utilities and independent power producers, which picked up 19 projects totaling 1.15 GW. Thirteen project developers acquired 14 projects for 803 MW during the quarter.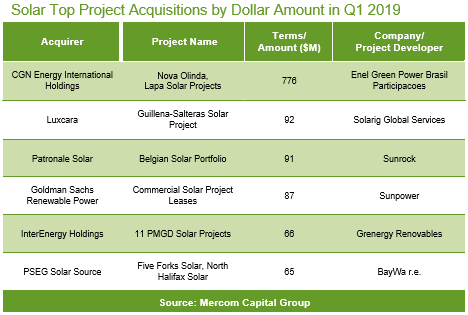 More on Mercom's report can be found here.