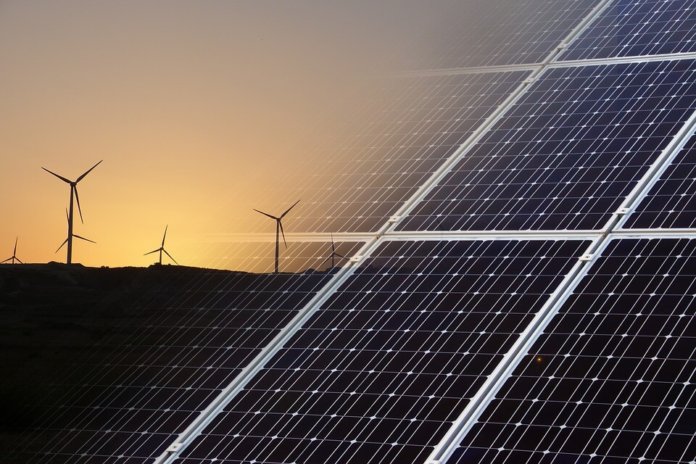 U.S. Sen. Edward J. Markey, D-Mass., and U.S. Rep. Alexandria Ocasio-Cortez, D-N.Y., have introduced joint resolutions in the Senate and House, respectively, for a Green New Deal, which, among other provisions, calls for 100% of the U.S.' power demand to come from renewable sources.
According to Markey, co-chair of the Senate Climate Task force, the resolutions represent "the dawn of a new era on climate action."
"A Green New Deal is about jobs, and it is about justice," he says. "It would be the greatest blue-collar jobs program in a generation and repair the historic oppression of front line and vulnerable communities that have born the worst burdens of our fossil fuel economy, all while saving the planet."
The resolutions outline 14 Green New Deal projects for a "10-year national mobilization," including proposals to "repair and upgrade U.S. infrastructure," retrofit buildings, "build resiliency against climate change-related disasters," "meet 100 percent of our power demand through clean, renewable and zero-emission energy sources," restore our ecosystems, and "spur massive growth in clean U.S. manufacturing."
According to the lawmakers, the Green New Deal outlines the principles and requirements to guide this mobilization, including "ensuring democratic processes and a fair and just transition for all workers." It also includes goals of "guaranteeing that all members of society can have a job with a family-sustaining wage and are provided with high-quality health care; affordable, safe, and adequate housing; economic security; and access to a clean environment."
Co-sponsors of the Green New Deal include U.S. Sens. Jeff Merkley, D-Ore., Bernie Sanders, I-Vt., Kirsten Gillibrand, D-N.Y., Kamala Harris, D-Calif., Elizabeth Warren, D-Mass., Mazie Hirono, D-Hawaii, Ron Wyden, D-Ore., Richard Blumenthal, D-Conn., Cory Booker, D-N.J., Amy Klobuchar, D-Minn., and Chris Murphy, D-Conn.
"Communities of color, low-income communities, indigenous communities and our family farmers are on the front lines of climate change," says Booker, "and I'm particularly encouraged that this blueprint addresses climate change in a way that promotes both economic and environmental justice."
"Investing in clean green energy is our future," adds Klobuchar. "We must do it for our climate, and we must lead in the world."
Organizations endorsing the legislation include the Sierra Club, SEIU 1199, 32BJ, Sunrise, Justice Democrats, Working Families Party, People's Action, Center for Popular Democracy, Justice First, Dream Corps / Green For All, 350.org, CREDO Action, Indivisible, Demos, Honor the Earth, Labor Network for Sustainability, National Domestic Workers Alliance, Organic Consumers Association, Presente.org, the League of Conservation Voters, and Earthjustice.
"These Green New Deal resolutions offer a bold plan to tackle the climate crisis and inequality – two of the defining crises of our time – at the speed and scale that science and justice demand," comments Michael Brune, executive director of the Sierra Club. "A Green New Deal presents the opportunity to help transition from an economy of low wages and toxic pollution to one driven by dignified work and 100 percent clean energy."
Brune adds that the group "look[s] forward to continuing to work with a broad array of partners, members of Congress, and front line communities to forge shared Green New Deal proposals and fuel the growing momentum for this transformative vision."
A copy of the resolution can be found here.