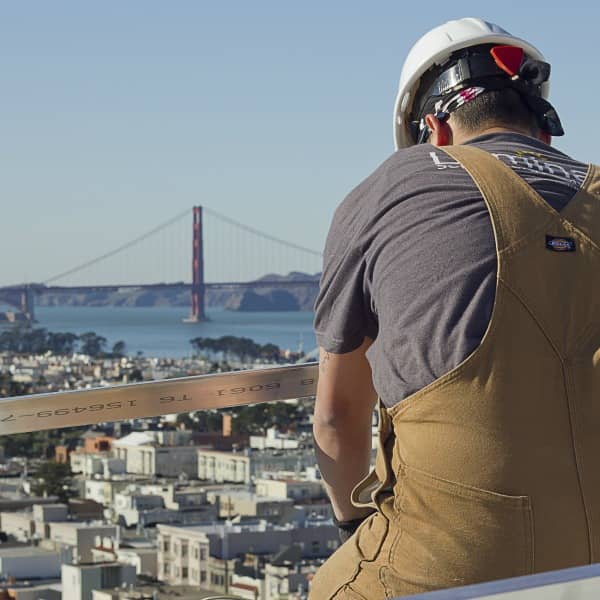 San Francisco used to come in at the bottom of the list in the Bay Area in terms of the amount of solar installed per capita. Once the GoSolarSF incentive program was implemented in 2008, the city took over the top spot. In fact, at the Intersolar North America conference earlier this month, San Francisco Mayor Edwin Lee touted San Francisco's solar installation successes.
'It's one of the many reasons that so many solar companies have been headquartered in San Francisco,' says David Hochschild, who was a member of the San Francisco Public Utilities Commission (SFPUC) from 2007 to 2008. 'Even other companies that aren't in the residential space want to locate to a city that is seen as a leader in solar.'
But deep funding cuts – by $3 million – to this popular program have solar advocates in the city worried about future progress. By all accounts, the GoSolarSF program has been very effective, with many supporters describing it as 'wildly' successful.
The program offers up to 95% of system costs for projects on single-family homes that meet low-income requirements. Other projects are limited to specific dollar amounts. Funds are allocated on a quarterly basis in four categories, including nonprofit and nonprofit residential; business and residential, excluding low-income; low-income residential; and low-income residential single-family affordable solar homes.
'There is a low-income component because San Francisco wanted to make sure that this program would not just subsidize solar that people could otherwise afford,' says Jeanine Cotter, founder, president and CEO of Luminalt, a designer and installer of solar electric and solar hot water systems for residences and businesses based in San Francisco. 'It wanted to drive solar adoption into neighborhoods where solar wasn't happening as much.'
As a result of the incentive, the number of solar-powered buildings has jumped to more than 2,300, with 6 MW of solar power installed since 2008. Approximately 89 jobs have been created as well, according to Charles Sheehan, spokesperson for the SFPUC.
Historically, the GoSolarSF program has been funded at $5 million per year. For the fiscal year beginning on July 1, the program was slashed to $2 million per year for the next two years. Revenue comes from the sale of hydropower generated from the SFPUC's Hetch Hetchy Water & Power system.
'The revenue stream and how that money comes to the SFPUC is really critical, because we're not pitting solar against social services,' says Cotter. 'The reason it's important is that the funding stream cannot be used to offset the general fund in San Francisco. It would be excruciatingly difficult to make the argument that one should fund solar to the exclusion of police.'
However, Sheehan says that budget priorities have shifted because of a lack of water and operational maintenance needs. The commission, he says, receives most of its revenue from hydro, which relies heavily on weather conditions.
'We are primarily a hydroelectric energy utility,' he says. 'We will sell a lot less power this year because it has been a dry year, so revenue does fluctuate from year to year.'
Maintenance issues are at the forefront for now.
'For the next couple of budget years, we are prioritizing the maintenance, rehabilitation, renovation and upgrade of our hydroelectric facilities and our power transmission facilities,' Sheehan explains. 'In order for the system to keep functioning and generating revenue, you do have to maintain it.'
Incentives for other renewable energy and energy efficiency programs have also been cut by the SFPUC, he adds.
Proven success
In response to the cuts, representatives from several companies, including Sunrun, Suntech North America, First Solar and SunEdison, sent a letter to Mayor Lee citing the benefits of the program and urging that funds be restored.
'This is undoubtedly a difficult budget season, but we ask for your leadership to work to identify funding to fully restore these cuts to GoSolarSF, to support the program at the $5 million level for the next two years, and to resume San Francisco's momentum as the premier location for cleantech policy innovation and economic development,' the letter states.
While Hochschild says that $5 million is a small amount when compared to the entire budget, he does acknowledge Lee's support for solar in the past and hopes that funding will be restored.
'I know that Mayor Lee is a strong supporter of solar and wants to see it grow and survive,' he explains. 'This is one of the bright spots in San Francisco's economy, and it's put the city in a leadership position. There's money to be found in the budget – it is just a matter of priorities.'
Lee's office did not respond to a request for comment on this story.
Cotter says the success of her company in the San Francisco area can be directly attributed to the GoSolarSF program.
'Certainly, Luminalt's growth has been significantly enhanced by the existence of the GoSolarSF program,' she says. 'Our workforce has been much deeper and much more diverse. Before GoSolarSF, most of our revenue came from doing installations outside of San Francisco. We went over bridges to design and install solar systems.'
GoSolarSF has allowed the company to quadruple in size, she adds.
Zoey Burrows, rebate specialist at San Francisco-based solar installer Occidental Power, agrees that GoSolarSF has been good for the company.
'It certainly keeps our San Francisco sales moving along, and it definitely makes it a lot easier to make a sale in the city,' she says, adding that the funding cuts have meant minor changes for the company.
'There is a lot more urgency for us to time everything very well in order to reserve the funds before they run out for that quarter,' Burrows explains.
However, Cotter is feeling the impact in a more pronounced way.
'As a practical matter, we've done a lot more work outside of San Francisco,' she says. 'We'll continue on that trajectory.'
For Cotter, GoSolarSF is a vital incentive – and not just because it has helped her company's bottom line.
The program includes a provision that applicants contract with an installer who participates in San Francisco's workforce development program. 'They come from a pool of individuals or populations who have traditionally had barriers to employment,' Cotter notes. 'It makes it possible for them to join the workforce, and it requires that an installation company like Luminalt hire them on as full-time employees.'
'This provides an opportunity for us to get our youth trained and up to speed and in a growing industry that is sustainable,' Cotter says, adding that while the program may not result in a large number of jobs, it is about quality, not quantity.
'Folks will criticize that it's not creating a lot of jobs, but what it is creating is sustainable, long-term jobs,' she says.
Photo: Luminalt installation crew at work in San Francisco. Photo credit: Mass Sam Am, via Flickr