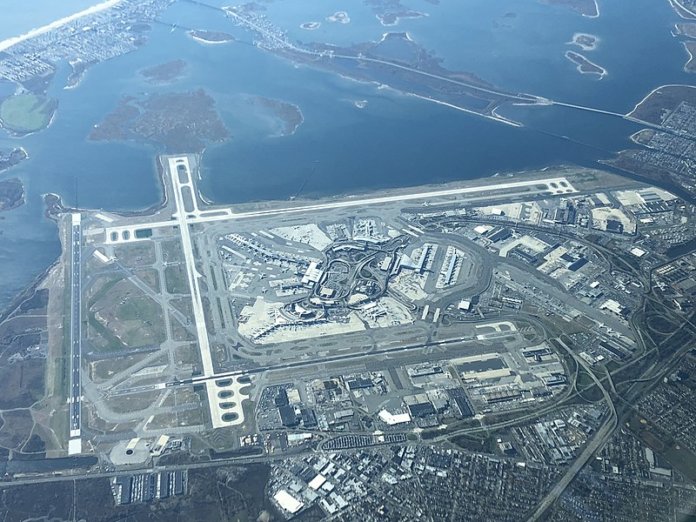 The Port Authority of New York and New Jersey has awarded New York City's single-largest solar energy project – a development at John F. Kennedy International Airport – to SunPower Corp. and Goldman Sachs Renewable Power Group.
Built in partnership with the New York Power Authority (NYPA), the JFK International Airport Solar Photovoltaic Project will generate approximately 13 MW of onsite solar and approximately 7.5 MW of battery storage, including a 6.1 MW community solar generation facility.
The project will encompass Building 141 and Long Term Parking Lot 9. Building 141 will host approximately 1 MW of rooftop solar, and Lot 9 will host more than 13 MW of solar and approximately 7.5 MW of energy storage.
The energy not earmarked for community solar will be used onsite at JFK, offsetting the Port Authority's purchase of conventional electricity sources.
In addition to being the single-largest solar project in New York City, it is the largest planned community solar project at an airport in the U.S.
"This innovative solar development at JFK is on a scale unprecedented in New York City, not to mention nationwide," says NYPA President and CEO Gil C. Quiniones.
"NYPA is proud to be a partner in such a trailblazing project that will help JFK significantly reduce its greenhouse gas emissions while supporting Governor Cuomo's green energy goals," he adds. "The fact that the installation will also provide affordable renewable energy to the local community makes this a sustainable good-neighbor project worthy of replication by other facilities."
SunPower is the solar developer and contractor for the infrastructure to be built. The financial partner, Goldman Sachs Renewable Power Group, will hold the power purchase agreement. BlueWave Solar will assist in providing the surrounding airport community with affordable access to clean electricity produced by the solar system by managing the associated subscriptions and billing.
The JFK renewable energy program is part of the Port Authority's goal of reducing the agency's greenhouse gas emissions by 35% by 2025 and advance its long-term goal of an 80% reduction in all emissions by 2050.