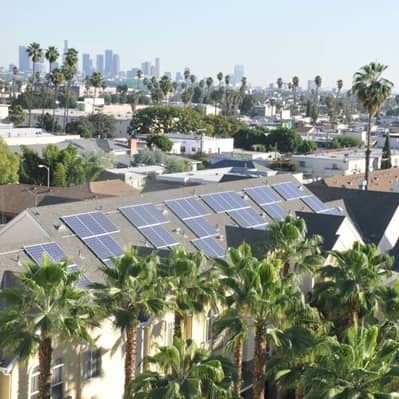 California's new, enhanced renewable portfolio standard (RPS) significantly increases the demand for solar power and other forms of renewable energy in California. In addition to requiring all load-serving entities – investor-owned utilities, municipal utilities and independent sellers – to derive 33% of their electricity from renewable sources by 2020, the new law also mandates that 70% of that power be generated from California sources.
Now that this RPS has been signed into law, where will California's utilities find the in-state renewable energy they need in order to meet requirements?
With utility-scale PV and concentrating solar power plants in California's remote desert areas encountering environmental objections and stalled transmission projects, large-scale deployment of distributed rooftop PV is an increasingly desirable option for meeting renewable energy needs.
According to a new preliminary study from the Los Angeles Business Council (LABC), multifamily properties' rooftops – an often-neglected market opportunity – could serve as an ideal host for a potential 300 MW solar PV capacity in Los Angeles alone.
'Given the economies of scale and the number of large, flat rooftops on multifamily buildings, this sector is likely to be the second most cost-effective (after commercial and industrial) for solar in the city,' the report says. 'In short, it will be easier and less expensive to harness significant quantities of solar power from multifamily roofs than from single-family homes or smaller commercial rooftops.'
Why? The large, flat roofs often found on Los Angeles' apartment complexes with five or more units tend to be suitable for installations of at least 50 kW – a threshold that the LABC says offers the most cost-effective deployment.
Moreover, analysis showed that many of Los Angeles' neighborhoods with the highest solar potential (i.e., high density of suitable multifamily rooftops) correspond with high-poverty areas that would stand to benefit most from the economic gains associated with solar development. These areas of confluence were found most strongly near Hollywood, Westlake and Koreatown, and in large portions of the San Fernando Valley.
'A well-designed multifamily solar program would offer numerous benefits to ratepayers and the general public alike,' the report states. A 300 MW initiative, for instance, would create more than 4,500 direct and indirect job-years – a boon to the local economy – and, of course, provide lucrative opportunities for solar equipment and service providers up and down the supply chain.
PV deployment could also improve tenants' quality of life – either by cutting their own individual utility costs or decreasing the building owner's costs and allowing those savings to be channeled into property improvements or tenant savings.
However, like most other studies that confirm the benefits of large-scale PV deployment in a given sector or location, the LABC's research found that success depends on the implementation of certain policies that do not currently exist or that must be modified in order to be successful.Â
'In looking at multifamily housing, the key factors are the installation cost of solar panels, the rate paid to the building owner per kilowatt-hour generated and the tax incentives available to subsidize the installation of panels,' the report says.
Although generous federal incentives, an investment tax credit and standard depreciation can make a significant dent in the required costs, the LABC's analysis of the hypothetical 300 MW program's feasibility also relies on an effective payment of $0.24-$0.26/kWh to owners in order to 'adequately incentivize' participation.
Unfortunately, with declining net-metering rebates, an oversubscribed solar incentive program and no feed-in tariff (FIT) in Los Angeles, the source of that necessary payment is currently undetermined.
The report also notes that in practice, transferring the benefits of multifamily PV to tenants may prove difficult. Similarly, the jobs created by a solar initiative could wind up being transferred outside of the local economically distressed area – unless precautions are taken.
In order to overcome these implementation barriers, the LABC recommends that the City of Los Angeles create a FIT – or increase the net-metering program for multifamily buildings – with an effective payment of $0.24/kWh to $0.26/kWh.
This policy should also include 'an energy efficiency tie-in that would allow residents to benefit from rebates or reduced utility costs; and local job-training programs that would enable more of these residents to be trained or the numerous manufacturing, installation and other jobs that will be created,' the report adds.
A final study, with further policy recommendations, is expected to become available in June and will be available online.
Photo: Turnkey solar project provider Sunwheel Energy Partners installed a 30 kW solar PV system at Carlton Court Apartments, a 61-unit affordable housing complex in Los Angeles. Photo credit: Sunwheel Energy Partners.