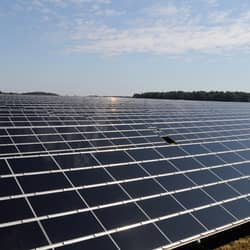 Despite a progressive state renewable portfolio standard (RPS) with a solar carve-out, many major electric utilities in Ohio fell significantly short in 2009, failing to deploy or purchase enough solar energy to meet requirements.
Ohio, which is home to more than 63 companies in the solar supply chain, passed a 2008 energy law that requires utilities to purchase or generate 12.5% of their electricity from renewable sources – including at least 0.5% from solar energy – by 2025. In the interim, utilities must meet incremental annual benchmarks.
However, a new study from the Environment Ohio Research & Policy Center reveals that for 2009 – the first year in which utilities were subject to the requirements of the 2008 energy law – none of the state's investor-owned utilities met its minimum solar energy requirement.
The report praises Duke Energy, Ohio's third-largest investor-owned utility, for meeting its overall renewable energy requirements in 2009 and coming closer to meeting its solar goal than the other three ranked utilities. Duke fulfilled 608 MWh (84%) of its 726 MWh solar energy requirement and received a grade of A from the Environment Ohio Research & Policy Center for its overall RPS compliance.
'Duke's strategy involved both seeking out solar facility owners to negotiate purchases and directly stimulating solar development in its service area by donating solar panels to local projects,' the report notes. 'Those panels eventually provided over 20 percent of solar energy [that] Duke obtained in 2009.'
In contrast, Ohio's largest investor-owned utility, FirstEnergy, received an F in the report. The utility obtained just 163 MWh (9%) of its required 1,886 MWh of solar energy and also failed to meet its energy efficiency requirements.
'FirstEnergy's efforts to comply with Ohio's Clean Energy Law have been too small and often poorly organized,' the Environment Ohio Research & Policy Center says. However, since its poor showing in 2009, the utility has 'agreed to put out a request for proposals from contractors for a long-term solar power purchasing agreement, which could put it on track to meet its solar requirements in the future,' the report adds.
American Electric Power (AEP), the state's second-largest investor-owned utility, also made dismal progress toward meeting its 2009 solar requirement: The utility obtained 61 MWh (3%) of its required 1,826 MWh of solar energy. Overall, thanks to the fulfillment of both its energy efficiency mandate and its overall renewable energy requirement, AEP received a grade of B in the report.
The Environment Ohio Research & Policy Center notes that AEP has since stepped up its solar energy procurement efforts, most notably by purchasing all of the power produced by the 12 MW Wyandot solar facility in Upper Sandusky Township. In addition, in October 2010, AEP signed a memorandum of understanding for a 20-year purchase agreement of the solar power produced by the 49.9 MW Turning Point Solar project, which is currently under development in southeastern Ohio.
Finally, Dayton Power & Light (DP&L), Ohio's smallest invest-owned utility, met 57% (340 MWh) of its 600 MWh solar energy requirement, earning an overall grade of A. Like AEP, DP&L has made significant strides toward solar compliance since 2009, according to the Environment Ohio Research & Policy Center.
'Yankee Solar Array, a DP&L-owned generating facility near Dayton, opened in 2010 and exceeded expectations by producing 1,334 MWh of electricity between April and December of that year – more than enough electricity to meet DP&L's in-state solar requirements for 2010,' the report notes.
Based on the utilities' performance in 2009, the Environment Ohio Research & Policy Center makes several policy recommendations for advancing solar energy and other forms of renewable energy in Ohio. In particular, the organization calls for the state's Public Utilities Commission (PUC) to hold all utilities accountable for their requirements – unlike in 2009, when the solar requirement was waived.
'Solar electricity production has boomed in Ohio since 2009, and all utilities should be able to meet their solar requirements with appropriate efforts,' the report states.
The PUC is also encouraged to facilitate the signing of long-term renewable energy contracts, which Environment Ohio Research & Policy Center believes will provide developers with more investment certainty than year-to-year renewable energy credit markets.
Additionally, the organization calls for the restoration of Ohio's Advanced Energy Fund – which provided incentives for renewable energy installations – and a stronger RPS. 'Leading states in renewable energy development have set requirements as high as 33 percent of consumption, and Ohio should follow suit,' the report says.

Photo: 12 MW Wyandot Solar Farm in Upper Sandusky Township, Ohio. Photo courtesy of Public Service Enterprise Group.