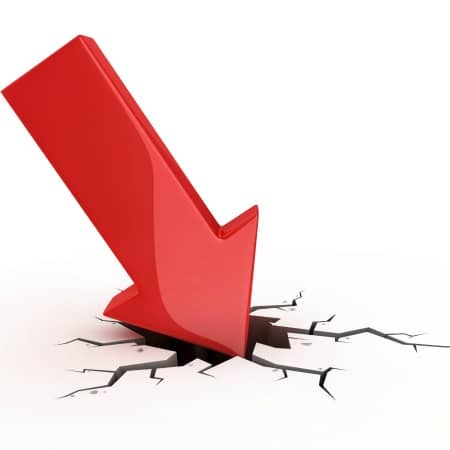 PV production equipment order cancellations and push-outs by solar photovoltaic manufacturers this year have exceeded $3 billion by the end of the third quarter (Q3'12), according to new research in the latest NPD Solarbuzz PV Equipment Quarterly report.
This trend has resulted in a significant reduction in order backlogs for PV equipment suppliers, with Q3'12 representing the fourth consecutive quarter of 30% quarter-over-quarter (Q/Q) backlog declines.
When combined with maintenance-only quantities of new orders seen by PV equipment suppliers, the PV book-to-bill ratio has fallen into negative territory – the first time since the industry began to take off in the mid-2000s, NPD Solarbuzz notes.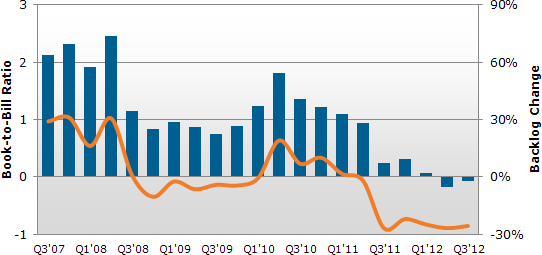 'Negative book-to-bill ratios are extremely rare within established capital equipment sectors,' says Ray Lian, analyst at NPD Solarbuzz. 'Even the worst downturns in the semiconductor industry have been characterized by positive book-to-bill ratios.
'Negative book-to-bill metrics suggest that most legacy PV capacity expansion plans have now been cancelled,' Lian continues. 'This satisfies one of the first requirements for the PV industry to rebound from its overcapacity-driven downturn phase.'
Customers of PV equipment suppliers – PV cell and module makers – continue to undergo a painful capacity rationalization process, caused by chronic over-investment dating back to 2010, according to the report.
However, quarterly manufacturing capacity for crystalline silicon (c-Si) cells and modules remains constant at 13 GW, with new capacity coming online canceling out the existing capacity that is being shuttered and idled.
During Q3'12, utilization rates for cell and module capacity were reduced considerably in an attempt to restore inventories to more manageable levels.
For instance, SunPower recently announced a reorganization plan calling for the temporary idling six of the 12 lines in its Fab 2 cell manufacturing plant and 20% of panel manufacturing in the Philippines. Other large manufacturers have implemented similar capacity-reduction initiatives.
In general, PV manufacturers remain highly cautious about short-term capacity and production plans, with growing uncertainty related to the outcomes of several ongoing anti-dumping investigations. Earlier this month, the U.S. Department of Commerce announced its final decision on tariffs to be imposed on solar products imported from China.
Some Chinese c-Si manufacturers are considering geographic diversification of their manufacturing capacity, NPD Solarbuzz adds.
PV equipment spending is forecast to decline by more than 66% during this year and to remain at pre-2008 levels of $5 billion during 2013. Equipment spending is not forecast to rebound until at least 2014, with tier-one spending accounting for over 90% of addressable revenues.
PV equipment spending over the next 12 to 18 months will likely comprise process tool upgrades, advanced high-efficiency pilot lines, and potential geographic capacity diversification to address any trade restrictions or local content requirements, according to the report.