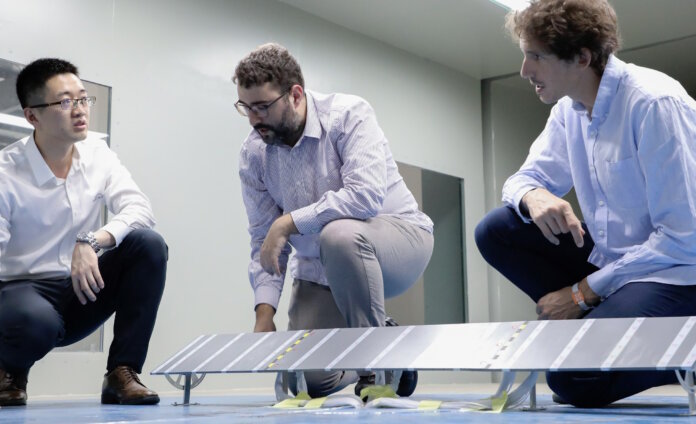 Recently, two professors from the Technical University of Madrid – Mikel Ogueta Gutiérrez and Omar Gómez Ortega – visited Arctech and have joined in an agreement on deepening cooperation with the Wind Tunnel Laboratory.
Gutiérrez is an internationally renowned wind tunnel expert who has participated in more than 70 wind tunnel studies in fields such as building aerodynamics, bridge aerodynamics and aeroelasticity, wind and solar energy. He has also led multiple wind tunnel experiments on photovoltaic trackers in Spain.
Ortega is a member of the National Association for Wind Engineering (ANIV) and the International Association for Wind Engineering (IAWE). As an influential wind tunnel expert in Spain, he has participated in the research and development of wind tunnel engineering in over 30 civil engineering, wind engineering, aerospace and other projects worldwide.
As a manufacturer and solution provider of photovoltaic trackers worldwide, Arctech regards innovation as the fundamental driving force for enterprise development, empowering customer value and leading industry progress. To this end, Arctech has cooperated in-depth with well-known universities, jointly promoting the implementation and transformation of scientific and technological achievements, and accelerating the modernization process of the photovoltaic industry chain.
In 2021, Arctech became the only photovoltaic enterprise in the world to have its own wind tunnel laboratory. The Arctech Wind Tunnel Laboratory can simulate the site environment and conduct tests from five stages: static, dynamic, CFD stability, aeroelasticity and Aero Plus. Based on test data, structural calculations are made to obtain accurate aerodynamic information on the solar tracking system, ensuring its stability.
In 2022, Arctech established a Numerical Wind Tunnel CFD Calculation Center. By selecting appropriate air turbulence mathematical models and using computers as tools, various discrete mathematical methods are applied to conduct numerical experiments, computer simulations and analysis research on various problems in fluid mechanics. An intelligent design platform for photovoltaic structural systems in complex terrains is then established, providing support for Arctech to improve product solutions.
Relying on its strong research and development capabilities, Arctech has pioneered the multi-point parallel drive tracking technology, leading the technological leap of solar trackers and solutions from single-point drive to multi-point drive. The exclusive development of the 3D Geographic Information System (GIS) + Numerical Wind Tunnel CFD Simulation application technology provides a theoretical basis and technical support for improving the reliability and structural optimization design of trackers in complex terrain.
So far, Arctech Global R&D Center Laboratory has obtained the qualification of the Photovoltaic Tracker TMP Laboratory issued by TUV SUD and the laboratory accreditation certificate issued by CNAS.