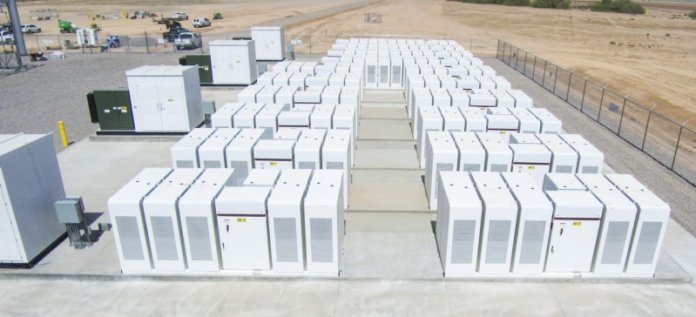 Salt River Project, the public power utility serving more than 1 million customers in the greater Phoenix area, says it is investing in the solar-plus-battery storage Sonoran Energy Center and Storey Energy Center.
Sonoran Energy Center will be an approximately 250 MW system located in Little Rainbow Valley, south of Buckeye. The solar array will be coupled with a 1 GWh energy storage system. The Storey Energy Center will be an approximately 88 MW solar and energy storage system, scheduled to be built south of Coolidge.
The Sonoran Energy Center will be the largest solar-charged battery project in the state.
"These integrated solar and storage plants will allow SRP to meet its summer peak demand, reduce carbon emissions and provide clean energy to our customers while optimizing energy output using state-of-the-art battery technology," says SRP General Manager and CEO Mike Hummel.
SRP's goal is to add 1 GW of new utility-scale solar energy to its system by the end of fiscal-year 2025.
"These plants will get SRP more than 60 percent toward our goal," he adds.
The projects were chosen as the result of an open "All-Source" solicitation for resources and will help serve SRP's summer peak load. Both plants are scheduled to be online by June 2023 and will be owned and operated by subsidiaries of NextEra Energy Resources LLC.
PHOTO: NextEra Energy Resources' 20 MW Pinal Central Energy Center in Arizona