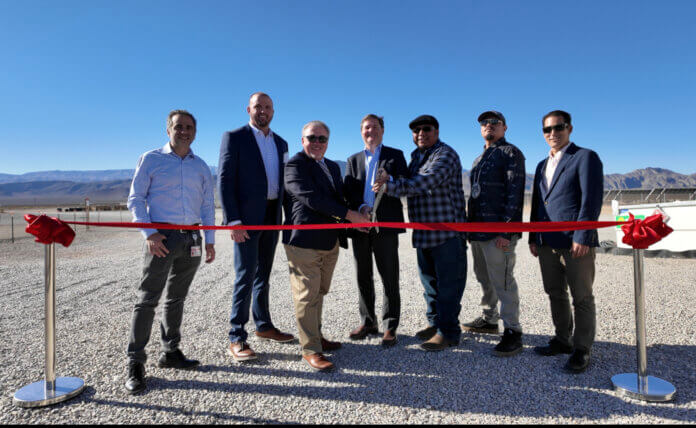 EDF Renewables North America, along with NV Energy, McCarthy Building Companies and the Moapa Band of Paiute Indians, has celebrated the completion of the Arrow Canyon Solar+Storage Project.
The EDF Renewables-developed project began construction in September 2021, with the solar portion completed in December 2022 and storage portion completed this month.
Situated on the Moapa Indian Reservation in Clark County, Nev., the 275 MW solar project is coupled with a 75 MW five-hour battery energy storage system, which generates enough electricity to power 57,600 average Nevada homes. During construction, over 450 jobs were created, with 10% of them filled with Tribal members.
The energy generated is supplied to NV Energy through a 20-year power purchase agreement.
"The partnership between our Moapa community and EDF Renewables has been a mutually beneficial one," says Kage Thompson, Moapa Tribal Council member. "The project, built entirely on Moapa River Indian Reservation lands, put over 45 tribal members to work during the construction of the project and will continue to provide good revenue streams for the Tribe into the future."
Arrow Canyon was designed to minimize impacts to wildlife, habitat, and other environmental resources of the Moapa Indian Reservation. The project comprises 621,000 high efficiency bifacial solar photovoltaic modules in conjunction with 564 battery segments. By coupling the solar facility with an energy storage solution, electricity produced during peak solar hours can be dispatched later in the day, thereby creating a balance between electricity generation and demand. Energy storage can further smooth electricity prices, manage evening energy ramps, mitigate curtailment, and provide grid stability.
EDF Renewables' asset optimization group will perform operations and maintenance services for the life of the project. The group will provide NERC compliance support, remote monitoring and balance-of-plant management to maximize power production.