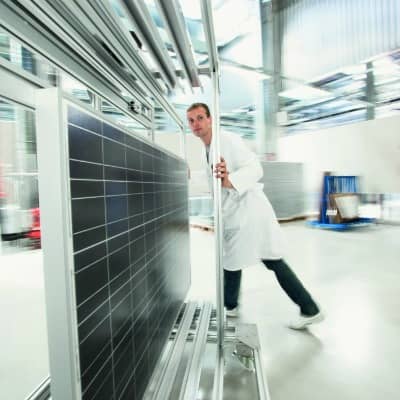 What lies ahead for PV manufacturers that can make it through the current market struggles? Companies that survive through 2013 are set for strong market-share gains, as global trade barriers and increased corporate casualties combine to decrease the competitive landscape significantly, according to the NPD Solarbuzz Quarterly report.
'The increasing globalization of PV demand continues to soften quarterly demand swings,' says Michael Barker, an analyst at NPD Solarbuzz. 'This will soon allow production and shipment forecasts to be planned with increased certainty.
'However, in the short-term, margins continue to be under pressure until the market rationalizes at an appropriate supply-demand balance,' Barker adds.
During the third quarter of 2012 (Q3'12), leading PV module manufacturers were confronted with increasing inventory levels (from 66 to 79 days outstanding) and declining shipments (down 7% quarter-over-quarter).
These difficulties occurred because PV manufacturers have been boosting production levels in expectation of a traditional PV second-half boom in shipments, the report explains. However, end-market demand during Q3'12 has yet to support the higher production levels.
Global solar demand in the first half of 2012 was approximately 13 GW, while second-half demand is projected to reach 16 GW – for only 25% growth. As a result, leading module manufacturers have been compelled to decrease guidance for full-year 2012 shipment growth, from 30% guided at the end of Q1'12 to approximately half that level today.
NPD Solarbuzz calls these reduced guidance figures a 'sobering reality check.'
'Although Q4'12 will provide a significant boost in end-market demand, it is unlikely to match the record levels seen during 2011, when year-end demand resulted in over 10 GW of PV modules being consumed in a single quarter,' Barker adds.
Demand in Q4'12 is now expected to be in the range of 8.5 GW to 9.5 GW, and NPD Solarbuzz predicts the most likely demand-forecast scenario for 2012 to fall just short of 30 GW.
An upside of 25% remains possible, but is strongly dependent on a late surge in shipments to China and India, in addition to a strong recovery across European markets.
Market-share gains
Signs are now emerging that 2013 will provide an opening for leading PV manufacturers to accomplish market-share gains. Supply rationalization will be an essential component of this, with leading module suppliers being able to increase production at the expense of legacy competitors, according to the report.
This stabilization phase during 2013 is expected to be characterized by increasing consolidation and liquidation of lower-tier PV manufacturers, many of whom have suspended production or are simply unburdening inventory today.
As supply and demand continue to stabilize, this will result in a slower quarter-over-quarter average selling price (ASP) decline and a lower risk of inventory build during 2013. This shift will allow upstream module manufacturers to maintain higher inventory levels, as there will be less risk of any dramatic devaluation of stock-on-hand due to rapid end-market fluctuations.
Although attention has previously focused on the shakeout of European and U.S.-based PV manufacturers, the next set of exits from the PV industry will likely come from under-performing Chinese tier-two and tier-three manufacturers.
'Module supply restructuring will bring much needed stability to the PV industry in 2013, including reduced pressure on ASP declines, breathing space for manufacturers to focus on cost reduction, and gross margin recovery,' says Barker. 'With reduced competition in the market, leading module providers will be afforded greater access to downstream sales channels, allowing them to align production and shipment forecasts.'
Photo credit: Q-Cells SE