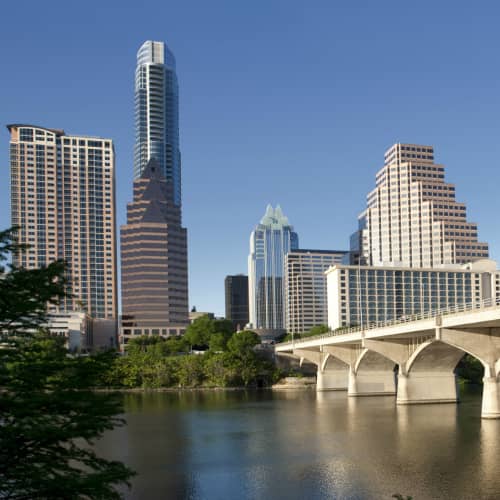 Texas formed the Sustainable Energy Development Council (SEDC) in the early '90s to figure out how to maximize the clean energy potential of the state. Texas is now a leader in renewable energy production, due largely to that initiative.
Nearly 20 years later, the City of Austin, Texas, is following in the footsteps of the SEDC by creating the Austin Local Solar Advisory Committee, which is tasked with issuing recommendations on how to develop more local solar projects.
The goal of the committee, which was approved by the city council on April 26, is to reach a consensus on how best to optimize Austin's solar resources. Karl R. Rábago, vice president of distributed energy services for utility Austin Energy, was involved with the state-level SEDC, which will serve as a model for the Austin committee.
'That structure, which was a balanced and comprehensive stakeholder committee that got together to take a hard look at the technical information and to plot that cost-effective resource maximization development strategy, seemed like a good way to go forward on this,' Rábago says.
Austin Energy is owned by the city. Currently, there is a little over 6 MW of installed solar – mostly in the form of systems 20 kW or smaller – in Austin. The utility's Resource, Generation and Climate Protection Plan includes a goal of reaching 35% renewable energy by 2020, with 200 MW of this coming from solar.
However, the plan does not state whether the solar resources have to be local or if they can come from power plants located outside of the city.
Laura Morrison, chairwoman of the city council's emerging technology and telecommunications committee, says that stakeholders agree that they want more solar, but there are different viewpoints as to how to reach this goal.
'We've had some studies done that show an enormous capacity if you put solar on every south-facing rooftop,' she says, referring to a U.S. Department of Energy study that stated Austin could produce approximately 2.3 GW of power if panels were installed on all the unshaded, south-facing roofs in the city.
'But it's about practicality, and it's about the council making a commitment to a certain amount of solar so that the folks in the solar industry in Austin can build a sustainable industry,' she adds.
The city is also in an unusual position because it owns the utility.
'Austin Energy is a very important financial piece of our city,' says Morrison. 'There's a certain concern that if everyone has rooftop solar, they're not going to buy electricity. We really just needed to roll up our sleeves and get to the bottom of this and get everyone on the same page with a recommendation that the council can fully embrace.'
Austin Energy supports adding more solar to its generation mix, but the utility does not necessarily think that all 200 MW needs to come from distributed resources within Austin.
'The price for solar has dropped so much that the [difference] between distributed solar and large-scale solar is now narrowing, so it's important that we come up with a good long-term plan for this,' says Michael Osborne, special assistant to the general manager for energy development at Austin Energy. 'If you're going to put in a substantial amount of distributed solar, you really have to figure out how to do it.'
Some Austin solar advocates are pushing for local solar in order to create a sustainable economy. Another goal is to avoid the boom-and-bust cycles that can result from temporary or changing incentives, such as the solar rebate that is offered by Austin Energy.
'I think one of the things we're going to be looking at is are there ways to smooth that out and are there ways to introduce some more creative financing schemes so that the whole pace of deployment does not just depend on the Austin Energy budget for a rebate,' says Ron Van Dell, CEO and president of Austin-based SolarBridge Technologies and a member of the committee.
The committee
The Austin Local Solar Advisory committee includes members representing solar associations, solar and component manufacturers, residential and community solar companies, economic development, consumer advocates and academia.
Its goal is to develop a strategic plan with specific recommendations in order to make the best use of Austin's solar resources. Work will include the following:
– review and update local solar resource studies;
– consider how the resources will interact with one another and the existing infrastructure;
– assess methods and analyze the cost of local solar development, including residentially owned and leased systems, community solar, financing mechanisms and incentives;
– integrate development models and assessments into a strategic plan in order to establish 'realistic' goals and a timetable for maximizing resources;
– create solar development scenarios through 2020, with an interim goal for 2015; and
– make recommendations on current and future Austin Energy solar programs, products, rates, tariffs and incentives.
Steve Wiese, president of the Texas Renewable Energy Industry Association's board, founder of consulting firm Clean Energy Associates and member of the committee, says Austin has a significant opportunity to increase solar development.
'I think what this committee is charged with doing is helping Austin understand and work toward the optimal allocation of its efforts in meeting its solar goals,' he says.
'Austin has set some pretty strong goals as far as solar development is concerned and has been extraordinarily innovative and forward thinking as a utility in leading the charge – certainly in respect to Texas as a whole,' Wiese adds.