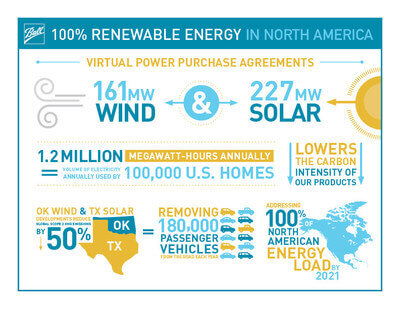 Ball Corp., a global packaging solutions company, has executed two virtual power purchase agreements (VPPAs) – one wind and one solar – for 388 MW of new renewable energy.
These agreements will allow the company to address 100% of the North American electricity load used in its corporate, packaging and aerospace operations by the end of 2021.
Together, the wind (161 MW) and solar (227 MW) developments in Oklahoma and Texas will allow Ball to reduce its global Scope 2 greenhouse-gas emissions by 50%, equivalent to the carbon reduction of removing 180,000 passenger vehicles from the road annually.
"Utilizing renewable energy is an important lever to further enhance the sustainability credentials of our packaging, and we're exploring similar opportunities across our global footprint," says John A. Hayes, chairman, president and CEO of Ball.
Ball first began using renewable energy in 2015, building three wind turbines in partnership with a local service provider to help power its Findlay, Ohio, beverage packaging plant. In 2018, Ball expanded the Findlay project to six turbines.
Ball was advised on the VPPAs by Schneider Electric Energy and Sustainability Services.