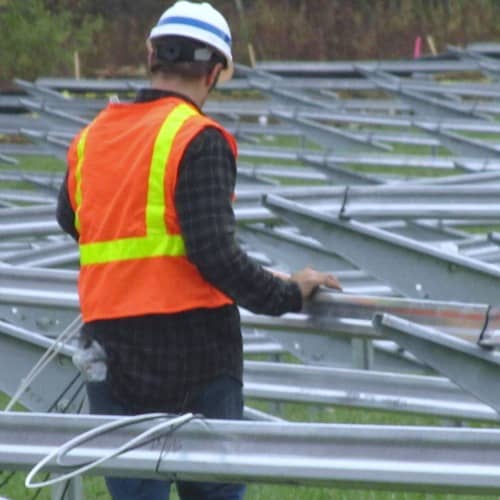 Thanks to license laws that are more stringent than in many other places in the U.S., Massachusetts has seen growing controversy over PV installation staffing – particularly at large-scale, ground-mounted commercial solar farm sites.
Commonwealth law states that anyone who installs 'wires, conduits, apparatus, devices, fixtures or other appliances for carrying or using electricity for light, heat, power, fire warning or security system purposes' must be a licensed electrician. In contrast, many other states may require only that a licensed electrician supervise on-site or allow the contractor to hold a general license.
Some PV developers and integrators report that the higher costs associated with using strictly licensed electricians keeps them out of the Massachusetts solar market altogether. Other solar companies operating in Massachusetts have found themselves under investigation by the Division of Professional Licensure (DPL) after labor groups file complaints alleging the use of illegal, unlicensed workers at job sites.
Such a conflict erupted this fall at a PV project site in Southbridge, Mass., where the National Electrical Contractors Association of Greater Boston (NECA) says temporary workers – not licensed electricians – were spotted installing racking and other components.
As Solar Industry initially reported last month, NECA filed complaints with the DPL against several solar firms involved with the project. The investigation is currently under way, says Matthew Lash, assistant executive manager at NECA of Greater Boston.
San Francisco-headquartered Martifer Solar USA, which is serving as the general contractor for the project, subcontracted the installation work to Patriot Solar, Lash explains. Patriot Solar then secured workers from a local temporary staffing firm, Absolute Staffing.
After photographing the workers and confirming their assignments, Lash voiced his concerns to representatives from Martifer Solar, Patriot Solar and Absolute Staffing.
'Martifer said they are being told by local code officials that they are compliant,' he says, adding that the company planned to proceed with its current arrangement until its management was told to do otherwise.
Martifer Solar declined to comment for this article. Patriot Solar and EPG Solar – which owns the land on which the project is being developed – did not respond to requests for interviews.
However, Michael Borkowski, managing partner at EPG Solar, told the Worcester Telegram that licensed electricians would be used for future work on the Southbridge project.
He also maintained that non-electricians can, in fact, legally perform racking installations and similar duties, per the outcome of a recent court case.
The court decision, known as the Carroll case, centered on the role of non-licensed general contractors in building PV installations in Massachusetts. The Board of State Examiners of Electricians sent a guidance memo to local inspectors explaining the case's outcome in late October.
'The judge's decision dealt primarily with the ability of the so-called general contractor not licensed as an electrician to advertise for and subcontract with a licensed electrician for solar installations,' Lash says. 'It did not clear unlicensed individuals to install electrical components of a solar array, as some may erroneously claim.'
What constitutes an 'electrical component' in a PV array? According to the board's memo, the installation of racks and rails does qualify as electrical work, while drilling holes in a roof as part of array prep work, for instance, is considered non-electrical.
'The exact point at which general contractors must subcontract with a licensed electrician should be decided on a case-by-case basis and may be enforced through individual proceedings,' the court added.
As part of the DPL investigation in Southbridge, Lash says he has also contacted town officials, whom he criticizes as 'unresponsive' in recent weeks. Nicola Tortis, the town's building inspector, told the Worcester Telegram that NECA's complaints stem from hostility over its own members' failure to win the installation job rather than actual safety concerns.
Lash refutes the notion that NECA's interference is political and notes that the Southbridge case is representative of a larger trend of solar contractors that take labor shortcuts. Earlier this year, International Brotherhood of Electrical Workers' Boston division, Local 103, waged a public campaign against a 5.6 MW PV project in Canton, Mass., alleging that illegal installation work was taking place.
'Sadly, we're seeing this approach taken all across the commonwealth, especially on these large-scale installations,' Lash says. 'Folks need to either come here and obey the law, or not come here and let the responsible contractors install.'
Photo: A worker installs PV racking at the project site in Southbridge, Mass. Photo credit: NECA