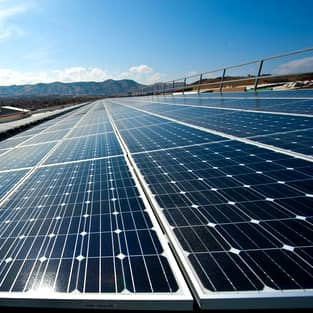 Although corporate investment in solar is nothing new, an influx of investment attached to high-profile names – such as Warren Buffett and Google – is now taking place as the solar sector matures.
'High-profile investment lends credibility, but the increased level of investment is due to many factors, such as the federal tax credit, state solar support programs with set-asides that mandate solar renewable energy credits and more funding support,' says Lewis Milford, president of advocacy organization Clean Energy Group.
For instance, funding from the U.S. Department of Energy's (DOE) Solar Energy Technologies Program and the Clean Energy States Alliance supports Clean Energy Group's 'States Advancing Solar' initiative. This effort focuses on facilitating state-level adoption of financial, policy-related and technological strategies that will accelerate solar technology markets.
Google Inc., long known as a global technology leader committed to renewable energy, has invested $915 million in clean energy projects since mid-2010.
The company's most recent investment – with partner Kohlberg Kravis Roberts & Co. LP – funds solar photovoltaic facilities serving the Sacramento Municipal Utility District (SMUD) in California. When completed, four projects are expected to produce 88 MW of power.
The SMUD project investment demonstrates solar projects' ability to attract private capital from established investors that recognize its financial attractiveness. 'We're very excited,' says Parag Chokshi, manager of public affairs for clean energy at Google. 'This is a new source of capital – not traditional investment. It's a great business opportunity with great returns.'
However, investment in solar power – and other forms of renewable energy – remains challenging for many companies, Chokshi notes.
'It's a complicated industry, so most companies don't think about renewable energy as an investment,' he explains. 'We talk to investors to educate them about opportunities and to make them comfortable with the technology.'
Naturally, there are also risks involved. 'It takes someone who knows the government incentives to get the [return on investment],' Chokshi says.
Investment in solar power also requires a long-term view. 'A lot of companies look for a three- to five-year payback, but solar requires a 15- to 20-year investment,' he points out. 'This is a long-term opportunity.'
With the market for expected energy demand projected to reach $26 trillion by 2030, solar seems a secure investment.
Chokshi acknowledges that renewable energy must 'make business sense' in order to be adopted. Nevertheless, he believes the 'greening of the grid' is a viable investment, in part because of a promising cost trajectory. PV panel costs, for instance, have decreased 70% in the past 18 months.
That type of price decline makes the investment compelling, even with the scheduled expiration of the investment tax credit in 2016, Chokshi says.
Paul Caudill, president of MidAmerican Solar (MidAmerican Energy Holdings' solar business unit), also considers solar power's price reduction to be a key factor in driving new investment. The prices of other materials, including electrical components and structural steel, also play a role. 'Cost structure is the focal point,' Caudill says.
One reason that the prices of non-module components have come under more scrutiny is that PV modules themselves are oversupplied and rapidly dropping in price. 'We have more modules than can be put to work,' Caudill notes.
He attributes this condition to favorable renewable energy policies in Germany and Italy, the largest solar markets, that further fueled a fast-growing European market. (Both countries have since reduced their PV incentives.) Concurrently, the U.S. market doubled. As a result, suppliers ramped up production, and costs of manufacturing solar modules began to drop.
'The market is juiced up by the reduction of module costs,' says Danielle Merfeld, general manager for solar technologies at GE Energy, who describes this as a 'volatile time' for the still-growing industry. 'Rapidly falling prices have attracted a large group of interested investors and led to a bigger market.'
Because advancements in technology have made solar a more competitive solution, GE continues to expand its clean energy portfolio. In addition to investing $600 million in a 400 MW factory in Aurora, Colo. – which is slated to be the country's largest solar panel factory – GE is building a large solar farm south of Chicago in La Salle County, Ill.Â
The 23 MW project is currently under construction, on land adjacent to one of the company's wind projects. 'There's value when you co-locate resources,' Merfeld notes.
Merfeld believes that dramatically reduced costs for PV are due to the increase of projects, but she adds that new financing models are also responsible for escalated interest.
'Innovation is a key part of market growth,' she says. 'Developers are offering projects to customers as leases. The customer pays the equivalent of a utility bill to the developers, who in turn take the credits. It's a very important new business model.'
In addition to federal tax credits, Merfeld believes that state-level renewable portfolio standards (RPS) help drive investment activity. Eleven states have added a solar set-aside to their RPS, requiring that solar resources represent a specified percentage.
However, government incentives are not always necessary to make solar competitive with traditional forms of electricity, according to both Merfeld and Caudill.
Caudill explains that the investment tax credit is only beneficial for revenue-producing projects. Even without subsidies, certain markets can compete with other types of energy on merit, he says.
The $2 billion, 550 MW Topaz project, which was sold by First Solar to Warren Buffett and Berkshire Hathaway's MidAmericanEnergy Holdings last December, is moving forward in San Luis Obispo County, Calif., despite not having received a loan guarantee from the DOE.
The Topaz plant, which has a power purchase agreement with Pacific Gas & Electric, is a 'true commercially viable project,' Merfeld says.
Lori Lovely is a freelance writer based in Indiana.
Photo credit: National Renewable Energy Laboratory