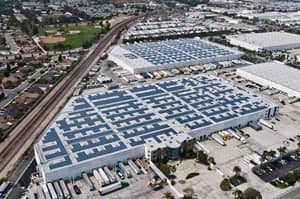 San Diego-based Borrego Solar Systems Inc. has announced that Southern California Edison (SCE) has agreed to buy nearly 10 MW of solar PV capacity from rooftop wholesale distributed generation (WDG) projects that Borrego Solar will build.
SCE has signed five 20-year power purchase agreements (PPAs) to buy the energy from the projects. Borrego Solar will complete the development of the portfolio and be in charge of engineering, procurement and construction.
The systems, to be located on industrial warehouse buildings in Southern California, are part of SCE's fourth solicitation under the Solar Photovoltaic Program (SPVP) for independent power producers – a five-year program to procure 125 MW of primarily rooftop PV projects.
These new PPAs will bring Borrego Solar's total participation in the program to nine projects totaling 17 MW.
The SPVP program is one of the country's only utility procurement solicitations that specifically target rooftop-sited WDG projects. The program favors siting projects on top of large, industrial warehouses where 1 MW to 5 MW of solar can be installed and the energy generated is sold directly to the utility.