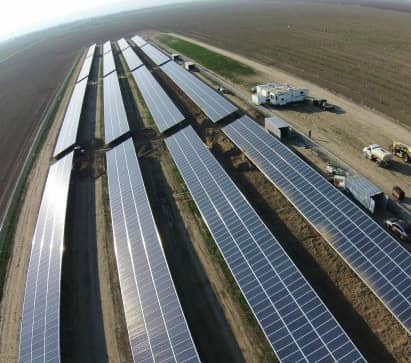 CalCom Solar, a Visalia, Calif.-based engineering, procurement and construction firm for solar photovoltaic installations, is testing the waters of unmanned aerial vehicles (UAVs) and, in the process, seeing a slew of future applications.
Nic Stover, the company's CEO, is no stranger to the technology: The final project of his master's degree program last year involved the applications of UAVs in agriculture, where there is a 'tremendous need' for unmanned aircraft.
CalCom Solar, which specializes in developing solar projects on agricultural land, is in a nascent stage of using UAVs, he says. Operating a DJI Phantom 2, the company has captured – through both photo and video – aerial views of several completed solar projects, including a 1 MW ground-mounted array on a tomato farm in Firebaugh, Calif.
Solar racking systems company GameChange Racking recently shared a video of this installation – offering what it calls a 'stunning' view of the project, featuring the company's Pour-in-Place ballasted ground system.
According to Stover, using a drone to provide a view of a finished array is beneficial for clients – who are able to 'appreciate the scale and the scope' of a project – and the company.
Before it began implementing drones – an 'absolutely' cheaper and safer method of aerial photography, he notes – the company had to sometimes bring in manned aircraft or stand atop tall structures to get the shot.
Although CalCom Solar has not yet used the drone during other phases of projects, such as construction and pre-construction, Stover says plans are in the works to deploy it for what he calls 'site scouting.' Ideally, he explains, after a client selects a site, CalCom Solar would then take the UAV there to survey the land, such as the neighboring areas and the utility connections.
The company currently uses a number of methods to assess sites, including Google Earth, local county assessor maps and local surveys. 'That's one of the issues,' he says. 'It's a combination of a lot of different information to put our data and plans together.'
However, he points out, a drone would eliminate the company's reliance on other sources of data and, instead, allow it to collect the information on its own through one device.
Stover envisions using a UAV for project inspections, as well. In particular, he'd like to equip the aircraft with LiDAR and thermal imaging.
'Theoretically, we could eliminate the need for a survey.' For example, he says, if there are 3,800 modules on a 1 MW site, individually inspecting each panel 'would be a very, very time-consuming process, even if you had a hand-held sensor.'
His hope is that the UAV would, instead, get the job done much more quickly. During an inspection process, the aircraft would fly down each row of panels and search for any thermal hotspots or electrical issues – essentially, anything that needs to be checked but that cannot be seen by the naked eye, he says.
How soon more solar companies will bring on board unmanned aircraft remains to be determined. Under the Federal Aviation Administration's recently issued proposed rules for commercial UAVs, operators would be required to keep the aircraft within a visual line of sight, operate only during daylight hours, and not fly over 500 feet in altitude or over any people not involved in the operation (among other rules).
'For us, it's not restrictive,' Stover says of the proposed rules. He notes that because the company's projects are sited on land around six acres in size, the visual line of sight rule would not be an issue. Also, because the projects are in rural locations, he does not foresee the company being hindered by the requirement to keep the aircraft away from people.
He adds that the potential of drone inspections reaches a multitude of project types: small- and large-scale, rooftop and ground-mounted, and commercial and residential. Rather than sending an inspector up on the roof to look at the panels, he says, a company can send a UAV up and eliminate human risk.
'I think all [these] companies will eventually have a UAV,' he says. 'I can definitely see it becoming more and more standard.'