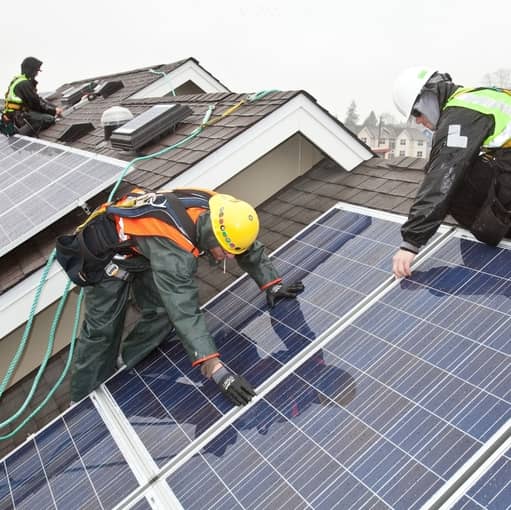 Sen. Bernie Sanders, I-Vt., and Sen. John Boozman, R-Ark., have introduced the 10 Million Solar Roofs Act of 2011, which is designed to lower the cost of solar power and put the U.S. on track to install 10 million solar systems on homes and businesses by 2020.
Sanders and Boozman are the chairman and ranking member, respectively, of the Senate Green Jobs and New Economy Subcommittee. They were joined in introducing the solar legislation by Sen. Jeff Bingaman, the chairman of the Energy and Natural Resources Committee. Sanders originally introduced the legislation last year.
'This legislation will make it more affordable for families and businesses to install solar, by helping communities reduce the costs associated with solar energy permitting,' Sanders said.
'As we lower the cost of solar energy and increase our use of solar, we can create hundreds of thousands of good-paying manufacturing and installation jobs in this country,' he continued. 'This bill also sets strong targets for American solar energy production, to ensure we compete vigorously with China and Europe for solar energy jobs.'
'A simplified permitting process will make solar energy more affordable,' added Boozman. 'I am especially pleased that our bill is fully offset and uses existing authorized spending to spur improvements in solar permitting and encourage the deployment of solar energy systems.'
In addition to establishing a goal of powering 10 million homes and businesses with solar energy by 2020, the measure would provide grants to communities to help them make their solar energy permitting process less costly and more efficient, and would recognize and reward communities that have adopted common policies on solar permits.Â
Supporters of the 10 Million Solar Roofs bill include the Solar Energy Industries Association, the National League of Cities and the League of Conservation Voters.
The full bill can be read here.
Photo: Workers install a 50.1 kW array on top of Sixth Place Apartments in Greenbridge, Wash. Photo credit: King County Housing Authority.