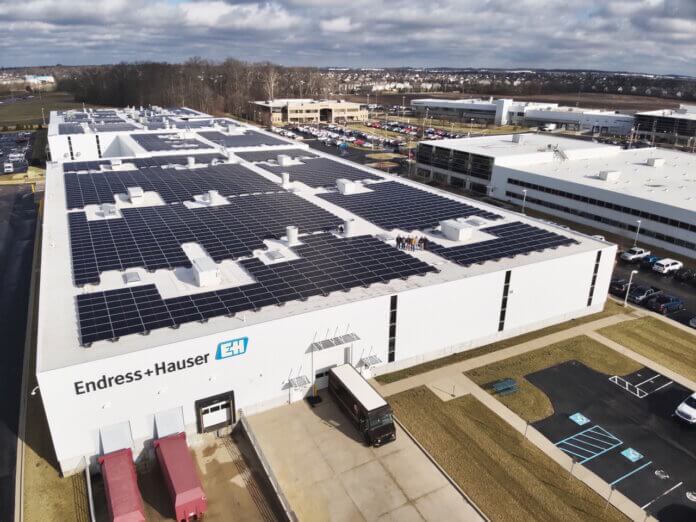 Castillo Engineering and RPG Energy Group recently joined forces and completed a 1.3 MW behind-the-meter solar project in Indiana, the last net metered project in the state.
Located in Greenwood, Ind., the project utilizes bifacial solar panels and ballasted racking, and will provide operational savings of $140,000 for Endress+Hauser, an automation and instrumentation manufacturing company, during the first year alone.
Providing solar energy customers with savings through site optimization is more important than ever in Indiana, which recently phased out net metering. Since 2004, the Indiana Utility Regulatory Commission had required the state's five investor-owned utility companies to offer net metering to all electric customers. The policy allowed those customers to sell their excess energy back to utilities at the same rate utilities charged customers for electricity. However, a bill approved by state legislators in 2017 began to phase out net metering, with the official end date taking place recently. As a result, what customers could have earned for selling solar power back to the grid dropped by around 70%.
RPG Energy Group and Castillo Engineering collaborated to meet the necessary deadlines – both regulatory and operational – to enable this 1.3 MW solar project to be grandfathered in for retail net metering. In order to meet the net metering deadlines, the companies had to submit the interconnection application and receive approvals within six months of project completion.
In addition to meeting the strict deadlines to enable this customer to have its solar system grandfathered in to receive retail net metering, the project also resulted in 53% net energy offset of the plant. The instrumentation manufacturer, which produces flow meters for liquid, gas and steam systems, can now offset the production of thousands of flow meters per year as a result of this solar energy system.
"We are grateful to have had this additional opportunity to work alongside RPG to deliver substantial long-term savings to this business," says Christopher Castillo, CEO at Castillo Engineering. "RPG's expertise in industrial-scale, behind-the-meter solar projects was crucial in the success of this project."