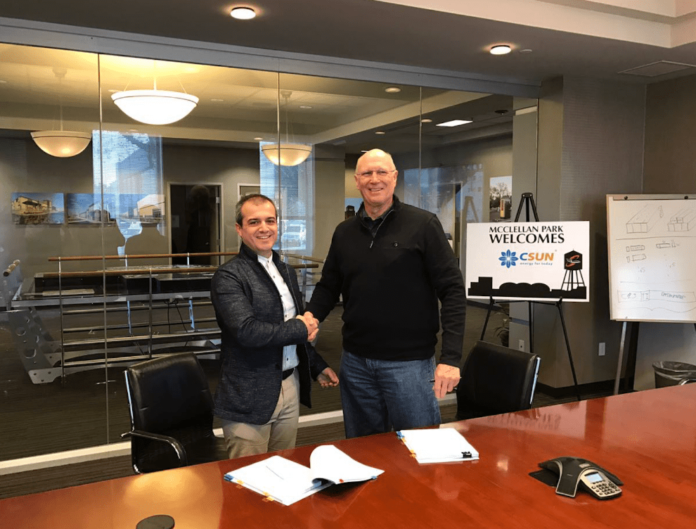 China Sunergy Co. Ltd. (CSUN), a specialized solar cell and module manufacturer, together with Seul Energy Manufacturing Pte Ltd., subsidiary of Seul Holding Pte Ltd., has entered into a lease agreement for building up to 400 MW of a high-efficiency solar module manufacturing facility.
According to China Sunergy, the new plant is located in McClellan Park in Sacramento County and is expected to begin operations in September.
As a major step forward in CSUN's global operations strategy, the new plant – with fully automatic production lines and covering approximately 140,000 square feet – aims to efficiently serve customers across the U.S., which is the second-largest market for the applications of solar energy.
The new plant expects to create over 150 job opportunities locally, the company adds.
"Although the solar industry is still facing headwinds, looking ahead, it possesses great potential, as price for fossil fuel is continuously rising and the sun's energy supply is inexhaustible and pollution-free," says Tingxiu Lu, chairman and CEO of CSUN.
"Diversifying our manufacturing base to America helps enhance our global supply chain and minimize any negative impacts from anti-dumping cases in the U.S. or elsewhere," he continues. "We are confident that together with our partner, Seul Holding, the company is well-positioned to capture future industry growth."
Egemen Seymen, co-founder of Seul Holding, adds, "CSUN's manufacturing facility in U.S. is an important step forward in our strategy, strengthening our position in this key market. It enables us to grow our already significant presence in America and to be closer to our U.S. customers. At the same time, the solar growth in U.S. gives us more flexibility to increase production across America to meet local and also global demand. CSUN is moving quickly to expand its presence in the United States, with new technology, new products, and now, a new factory."