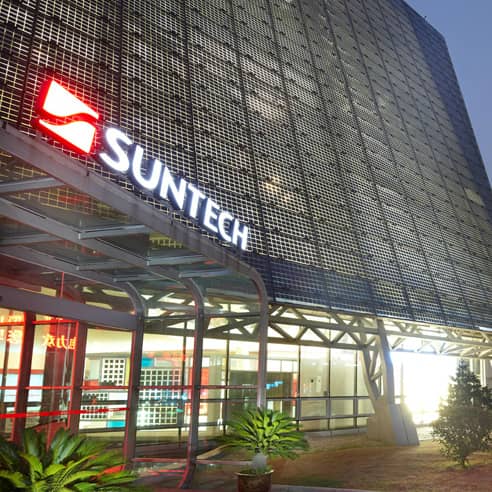 In its latest rankings of the world's top solar module suppliers, market research firm IMS Research has determined that last year's winner has once again come out on top. The analysis also revealed major indicators of the market consolidation that is now under way in the challenging photovoltaic module manufacturing sector.
Suntech Power was the largest supplier of PV modules, by shipment volumes, for the second consecutive year, according to the rankings. For the first time, Suntech was also joined by three other Chinese crystalline PV module manufacturers in the top five, as Chinese manufacturers tightened their grip on the market.
Despite challenging market conditions throughout 2011, Suntech became the first supplier to ship over 2 GW of modules. The only non-Chinese manufacturer ranked in the top five was U.S.-based thin-film supplier First Solar, which was ranked as the second largest supplier – also for the second year running.
Chinese suppliers Yingli, Trina and Canadian Solar (considered as a Chinese supplier because the majority of its operations are based in China, IMS Research notes) all gained one place in the rankings to make up the rest of the top five, displacing Japan's Sharp to sixth position.
IMS Research also found that the PV module supplier base consolidated considerably in 2011, with the largest suppliers collectively gaining share of the market.
'Leading suppliers were able to leverage their strong brands to grow their shipments in highly competitive market conditions in 2011,' notes Sam Wilkinson, senior market analyst at IMS Research. '2011 claimed a number of victims, but nearly all of the top 10 suppliers grew their shipments, and collectively, they accounted for nearly half of total industry shipments.'
Although eight of the ten largest suppliers grew their annual shipments by more than 10%, most suppliers recorded lower shipments in the fourth quarter of 2011 (Q4'11) compared to totals seen in the previous quarter.
'Despite a very strong end-of-year rush to install in Germany, high inventory levels for PV modules in the supply chain meant that this [surge] was not reflected in suppliers' shipments,' says Wilkinson. 'The rush also came later than many expected, and so, many suppliers were not able to capitalize on this.'
Canadian Solar and Trina Solar were among the few suppliers that bucked this trend by increasing their shipments in Q4'11, with Canadian Solar becoming the third largest supplier in the quarter and increasing its annual market share by over one percentage point.
Another significant market share gain allowed China-based JinkoSolar to become the only new name in IMS Research's top 10 suppliers in 2011. Having more than doubled its annual shipments, JinkoSolar was ranked as the seventh largest module supplier in 2011.
Photo credit: Suntech