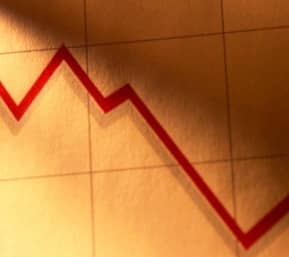 Following two years of turbulent overcapacity, oversupply and inventory buildup in both the upstream and downstream segments of the solar energy supply chain, the supply-demand balance is expected to be restored in the PV industry in the second half of this year, finds a recent report from market research firm NPD Solarbuzz.
Module production, supply and market demand are all forecast to come within 8% of the 17.2 GW of solar demand expected for the second half of the year, Solarbuzz says.
Global PV demand for 2012 is expected to exceed 30 GW (up 8% year over year), driven by a strong pull in the fourth quarter from emerging Asia Pacific regions, especially China.
With a demand of over 5 GW predicted for the second half of the year, the growth of the domestic Chinese market will provide welcome relief for Chinese crystalline silicon (c-Si) manufacturers, more than offsetting any impacts from the recent U.S. Department of Commerce (DOC) ruling or potential anti-dumping filings within Europe, according to Solarbuzz.
In fact, most leading Chinese module manufacturers are planning for greater demand this year – by as much as 30% above the 30 GW mark. This optimism comes from year-end surges seen previously in the PV industry, a greater number of emerging countries added to the PV demand mix, and possible upside from new ground-mounted projects, whose return on investments are decoupled from legacy regional incentives, the report explains.
Increased module shipments will be driven initially by downstream integrators, restocking inventories during the third quarter in the expectation of the year-end demand surge. However, capacity-expansion plans will remain largely on hold during the second half of the year, with the exception of some Taiwanese solar cell makers that are currently running at maximum utilization levels following the preliminary DOC ruling.
"The PV industry has been suffering from a significant imbalance between supply and demand for over 18 months, causing severe price erosion and reducing corporate margins," notes Michael Barker, analyst at NPD Solarbuzz." However, confidence in strong market demand during [the second half of the year], together with prudent capacity utilization, will provide PV market leaders with increased visibility ahead of 2013 strategic planning."


PV Module Production, Supply and Demand Metrics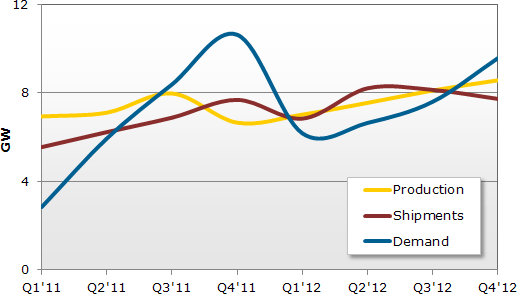 Source: Q2'12 NPD Solarbuzz quarterly report
Having been the default means for reducing costs during 2011, the average selling price (ASP) of polysilicon is forecast to decline by less than 10% in the second half of the year, according to the Solarbuzz report. Therefore, c-Si manufacturers will be forced to prioritize non-silicon cost reduction as the only means of combating continued module price declines.
Together, total silicon and non-silicon processing costs are expected to decline by 20% to 35% during 2012, but with the non-silicon portion set to fall by up to 50%.
During the first quarter, module processing costs became the largest part of total silicon and non-silicon costs. However, as the least technically challenging segment of the manufacturing chain, it is not surprising that module processing costs are now set to decline by the greatest amount, Solarbuzz notes.
Leading Chinese c-Si manufacturers are expected to reduce module costs by over 40% this year, with further cost reductions possible in 2013, according to the report. Despite these concerted efforts to reduce costs, c-Si module ASPs are forecast to decline by an even greater amount during 2012 – between 25% and 45%.
Therefore, while the supply-demand equilibrium is set to provide a more stable industry environment, the focus on cost reduction will remain the most important action item for manufacturers moving into 2013, Solarbuzz concludes.