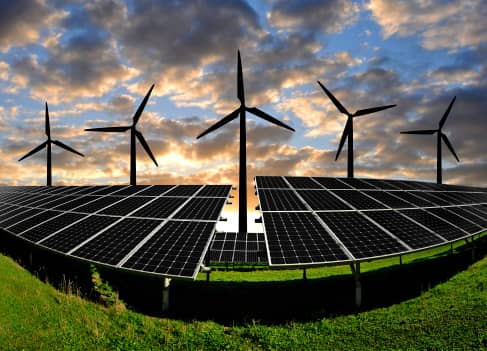 The U.S. House of Representatives has passed two resolutions to block the U.S. Environmental Protection Agency's (EPA) Clean Power Plan regulations for both newly constructed and existing power plants.
S.J. Res. 24, sponsored by Sens. Shelley Moore Capito, R-W.Va., and Heidi Heitkamp, D-N.D., covers existing power plants, and S.J. Res. 23, sponsored by Senate Majority Leader Mitch McConnell, R-Ky., and Sen. Joe Manchin, D-W.Va., covers new power plants.
Before moving to the House, these resolutions of disapproval passed the U.S. Senate in mid-November.
The Clean Power Plan, whose final proposal was released in August, calls for reducing emissions from coal-fired power plants by improving the efficiency of existing plants, shifting to gas-fired power plants, or replacing them with low- or zero-emission sources of energy such as wind or solar power.
A resolution of disapproval filed under the Congressional Review Act is a legally binding resolution that provides Congress the ability to eliminate onerous regulations imposed by the executive branch through an expedited procedure for consideration in the Senate, explains Capito.
Now, both resolutions head to President Barack Obama's desk. According to Nov. 17 statements from the White House, the Obama administration, which"strongly opposes," both resolutions, has vowed to veto them.
"Hardworking families cannot afford these crushing regulations that threaten jobs and affordable energy while doing little to actually improve the environment," Capito says." Sending these resolutions to the president's desk is an important step in the fight against the harmful Clean Power Plan and shows that any international climate deal reached in Paris will be met with skepticism here at home. World leaders should be cautious about entering into a deal with an administration whose misguided policies lack the backing of a bipartisan majority in Congress."
Rep. Scott Peters, D-Calif.-District 52, who voted against the measures, argues that the Clean Power Plan would allow states, localities and energy utility companies to set standards for reducing emissions and encourage investments in innovative, sustainable energy production.
"Reducing emissions from power plants – the largest emitters of harmful pollutants in our country – is a significant action that will boost our economy, benefit public health and save hardworking families money by cutting energy bills," says the congressman.
The resolutions, according to Peters, attempted to"gut the Clean Power Plan," and"failed to offer any credible alternative plan to keep our air and water clean for the next generation."
"At a time when world leaders are coming together in Paris to reach a historic accord to slow climate change, Congress should be leading the way to support them, not undermining them," he says.
Heitkamp, after the resolutions passed the Senate, said she would"keep pushing for a viable solution through legislation, negotiation and legal challenges," to"make sure overly burdensome EPA regulations don't hurt [her] state."