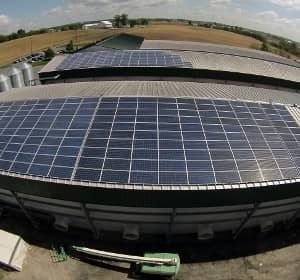 Kreider Farms of Lancaster County, Pa., says its $2 million commercial solar project is now operational.
The photovoltaic array consists of 3,226 solar modules covering 67,000 square-feet of roof space on the farm's chicken houses. The system is expected to generate 1.1 GWh of electricity per year.
The project was developed by MBC Development LC in cooperation with A1 Energy, both of Pennsylvania.
'Over the decades, we have invested millions of dollars into eco-friendly, high-tech facilities in an effort to improve the quality of our products and reduce our environmental footprint, which helps to preserve farmland,' says Ron Kreider, president and CEO of Kreider Farms.