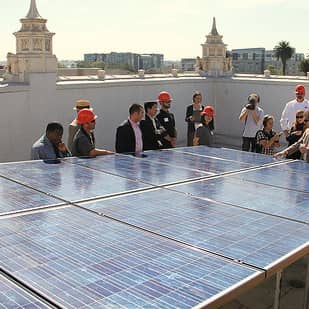 When the California's legislature reconvenes in early 2013, solar advocates may see a familiar item on the agenda. Earlier this month, State Sen. Lois Wolk, D-Davis, introduced S.B.43, which would establish a framework for community solar projects.
As solar professionals from California and beyond may remember, Wolk's previous community solar bill, S.B.843, failed at the last minute in September – despite extensive lobbying efforts from the solar sector, local governments and supporting organizations.
Resistance from the state's main utilities and their own lobbying squad ultimately thwarted community solar advocates' efforts, Tom Price, director of policy and market strategies at CleanPath Ventures, told Solar Industry after the defeat.
Like its predecessor, S.B.43 would create a program that would allow 'all utility customers – local governments, businesses, schools, homeowners, municipal customers and renters – the opportunity to buy a portion of the energy generated at an off-site renewable energy facility and get credit for that energy on their utility bill,' Wolk explained in a press release announcing the new legislation.
The bill requires no state funds and does not shift any costs to consumers that do not participate, she added. Cost issues proved to be a key area of dispute, however, in the bill's earlier go-round. Fong Wan, senior vice president for energy procurement at Pacific Gas & Electric, claimed in a September Sacramento Bee editorial that community solar would shift $4 billion in costs from participating customers to non-participating customers.
Under S.B.43, the California Public Utilities Commission would be required to 'minimize the rate impact of a shared renewable energy self-generation program to nonbeneficiaries, with a goal of ratepayer indifference,' according to the bill's text.
Wolk's announcement further points out that large, centralized solar installations can produce energy less expensively than small, private projects.
The bill, however, does not yet offer any specifics on how rate impact might be mitigated – thus potentially opening up the legislation to the same criticism from utilities that hobbled legislative efforts for S.B.843.
A broad model
Consumer groups, environmental groups, the U.S. Department of Defense and even San Diego Gas & Electric (eventually) supported S.B.843. Given that backing, what else could help push the latest legislation through to the finish line?
'Generally, I think everyone learned that we need to make a stronger case for community solar, both to the utilities and to the general public, in order to get the widespread support we need for a bill to pass,' says Lisa Curtis, community builder at Mosaic Solar.
The Oakland-based company offers a twist on the utility-based community solar structure, as proposed by Wolk. Under Mosaic's crowdfunding model, individual investors combine forces to finance PV projects, and the revenue produced by the project's electricity sales is used to repay the investors, with interest.
Although Mosaic did not directly participate in previous legislative efforts to see community solar expanded in California, many of its partners are active in the movement, and Mosaic itself considers itself a community solar player, Curtis says.
'Community solar has no single, uniform business model but is generally defined as a solar project with multiple individuals who share the costs and benefits of the solar project,' she notes.
During almost any discussion of solar program expansion, utilities' grid-stability concerns invariably come up alongside cost discussion. Curtis, who says many people were surprised to see S.B.843 fail, believes that community solar in its various forms represents just one of many signs that a grid overhaul is due.
'California's aging electric grid has been operating in much the same way for over 80 years,' she says. 'We need to modernize the grid for a variety of reasons – not just for solar.'
Grid modernization efforts are not known for speedy implementation, but for community solar proponents, S.B.43 may begin moving forward in just a few weeks. According to the legislature's online schedule, the bill could see action as early as Jan. 11.