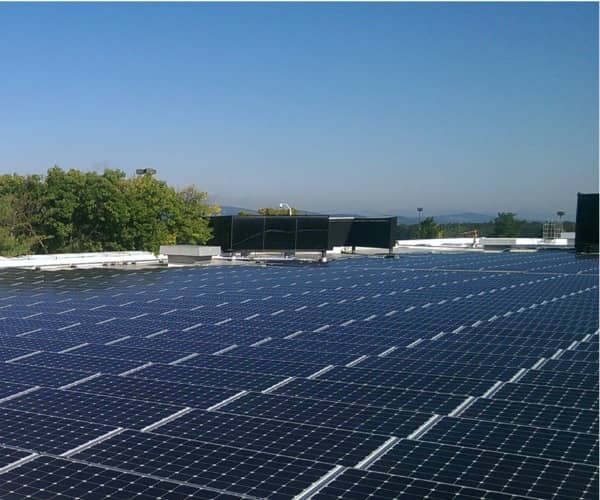 Miami-based solar developer Conergy and West Palm Beach, Fla.-based solar financing firm Demeter Power Group have debuted a financial structure developed under the rules of the CaliforniaFIRST property-assessed clean energy (PACE) finance program.
The PACE Lease financing structure enables commercial property owners to fund a solar project as an improvement by collecting third-party-owned solar revenues as a property tax assessment. PACE Lease is trademarked intellectual property of a partnership between Demeter Power and Conergy. The trademarked PACE Lease stems from a financing platform devised by Demeter with Conergy's financial backing.
PACE Lease operates through the California's existing PACE program, which is administered by Renew Financial. Its distinction is that it allows outside capital to provide third-party financing for solar projects.
According to Yann Brandt, global head of marketing and public relations for Conergy, PACE traditionally has been used by building owners to pay for improvements, essentially in the form of a debt investment. It's like getting a loan. There have been other projects – including solar projects – in the CaliforniaFIRST area that have used PACE to fund a portion of their capital, but always in the form of debt.
'What we're doing that's innovative is bringing third-party ownership into the PACE program,' Brandt says. 'The main reason we're doing this is because the commercial solar market suffers from the fact that there is no FICO score equivalent. There is no way to do underwriting and have good credit security in the commercial arena.'
By using PACE Lease and securing power purchase agreement (PPA) revenue as a PACE assessment, Conergy and Demeter are able to bring not only the debt, but also the equity and tax equity into a project. The partnership estimates that 90% of commercial property owners currently are unable to secure funding for solar projects. PACE Lease is aimed at that market.
'We are leveraging the platform to innovate solar financing beyond just project debt, which is what PACE was originally going for,' Brandt says.
The partnership is jointly developing those projects through Conergy's sales force and Demeter's channel partners. Ultimately, Conergy is the investor and owner of the project.
The first such project financed under the auspices of PACE Lease is a 200 kW solar power system for the Tiburcio Vasquez Health Center in San Leandro, Calif. Demeter is developing the project, which Conergy is funding and will own.
Brandt says there are definite symbiotic aspects to the relationship with Demeter Power, which developed its funding platform concept involving PPAs and PACE with an incubator award from the U.S. Department of Energy's SunShot Initiative. Demeter's innovation and ability to open up a new market offers Conergy the ability to own more projects in a new market territory. Demeter Power receives the financial backing of Conergy, which is majority-owned by Miami-based Kawa Capital Management.
For its part, CaliforniaFIRST administrator Renew Financial benefits by the overall increase in solar projects being funded by PACE programs.
'We believe this project will be the catalyst for commercial solar to take off in California,' says Brad Copithorne, vice president of commercial PACE for Renew Financial, in a statement. 'Business owners have been looking for this type of financing that is offered at competitive rates and that allows for easy repayment on their property taxes. We are looking forward to funding similar deals with partners like Conergy and Demeter through the CaliforniaFIRST program.'