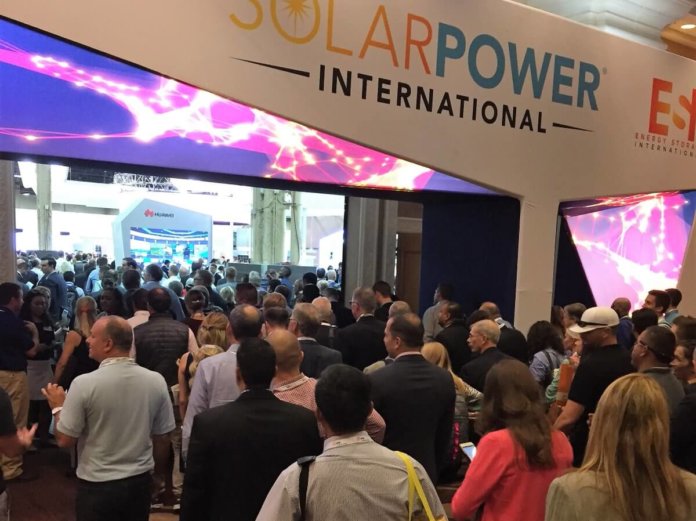 For a consecutive year, Solar Power International (SPI) opened its doors to a record-breaking crowd. According to organizer Solar Energy Trade Shows (SETS), the four-day event at the Mandalay Bay Convention Center in Las Vegas welcomed 20,000 attendees from Sept. 10 to 13 – confirming the attendance figure that the Solar Energy Industries Association (SEIA) recently told Solar Industry.
In a press release, SETS says the event showcased an expanded show floor with over 700 exhibitors and an even robust educational program, bolstered by the co-location of Energy Storage International (ESI), Hydrogen + Fuel Cells North America, the Smart Energy Microgrid Marketplace, and The Technical Symposium.
"This year's event was a true testament to the growth and strength of this industry," says Stephen Miner, president and CEO of SETS, organizer of SPI and ESI. "A record crowd of 20,000 attendees saw an even bigger and better show that included ESI, Hydrogen + Fuel Cells North America, and the Smart Energy Microgrid Marketplace – a complete integration of these renewable technologies all in one place. We're excited to continue the expansion and integration of these components in Anaheim for SPI and ESI 2018!"
SETS claims ESI came into its own as the largest energy storage conference in North America, featuring over 160 energy storage exhibitors on the show floor, dedicated full conference education, show floor education in Storage Central and an exclusive storage networking event.
SPI and ESI, co-sponsored by SEIA and the Smart Electric Power Alliance (SEPA), will return next year at the Anaheim Convention Center in Anaheim, Calif., on Sept. 24-27. More information is available here.
(To learn why industry uncertainty, progress and promise emerged as three main themes at the recent trade show in Vegas, check out an SPI wrap-up here.)
Photo courtesy of SEIA