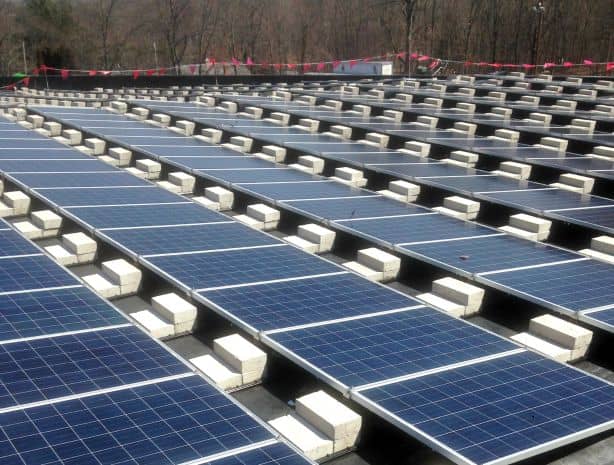 SHR Energy Management of Weston, Conn., and New York-based SunLight General Capital recently completed a 132 kW solar project on the rooftop of Black Rock Congregational Church in Fairfield, Conn.
SHR Energy developed the project over a two-year period, while SunLight General financed and provided construction services for the operation.
Built on the church's newly installed flat rooftop, this project features 418 ReneSola panels with 1,000 VDC capability and 104 Hanwha panels with 600 VDC capability. According to SunLight General, the company elected to use Ecofoot 2 racking for its flexibility in tilt angle and to use four Solectria string inverters in order to hedge against a single point of failure in the system.
Noel Lafayette, the founder of SHR Energy Management, says that when he realized Black Rock was constructing a new building, he personally approached the church leadership and proposed that they integrate solar into their construction plan.
'Being local to the area, I saw that the church was being built and the roof was going to be brand new,' he says. 'If you know you're heading for new construction – whether you're building from scratch, doing a major remodel or even just putting up a new roof – that's the ideal time to involve solar.'
Stacey Hughes of SunLight General Capital says that although the project was initially scheduled for completion by November 2014, the project was delayed due to excessive snow and ice that persisted for nearly five months.
'Everything got shut down. It was really April when we got moving again,' she says.
In addition to the difficult winter season, Hughes says that financing a project of this size poses its own set of challenges. She explains that although the majority of commercial buildings in the U.S. could hold a solar project of this size, banks and other solar finance parties are sometimes wary of investing in a project that is too large to be residential but too small for the utility sector.
'This is a very typical size for buildings in the country, but it's the most difficult project to finance. It's not very big; neither is it very small,' she says. 'I think we're going to see a lot more investment in the coming years, but right now, it's an investment in time and resources on a relatively small project.'
Despite this, Hughes says SunLight General was more than willing to finance the Black Rock project in order to get involved in the nonprofit space and to support community-oriented green energy.
'A lot of our investors are interested in putting their money to work in a socially responsible way. They like solar in general, but particularly for a nonprofit,' she adds. 'It's really a double win.'
The project was financed at no cost to the church, and Black Rock agreed to purchase the project's output under a standard long-term power purchase agreement.
Lafayette says Black Rock leadership and the building committee of volunteers were extremely supportive throughout development.
'These guys were really great to work with. They were very energy-conscious, and they understood all of the implications of the program,' he says. 'They designed [the building] from the get-go for maximum energy efficiency – every light bulb in there is LED – so solar just made sense. Working with the church was probably one of the better experiences I've had as a developer.'
According to Lafayette, the Black Rock project demonstrates how solar development is beneficial from a financial, environmental and community standpoint – even for projects that financiers may deem an 'unfavorable' size.
'Solar is for everybody, and I don't mean that in a tree-hugging way. Solar is applicable economically as well as environmentally to the middle market,' he says. 'This is a perfect case in point.'