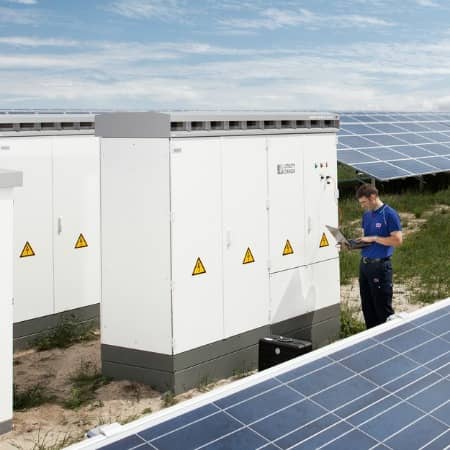 Global photovoltaic inverter shipments increased 35% in the first nine months of this year compared with the same period of 2014; however, prices fell 26% to $0.12/W, according to a new report from IHS Technology.
Although prices are declining, the volume is forecast to produce a 4% year-over-year revenue growth – reaching $6.9 billion.
'The shift to utility-scale installations is changing the product mix and causing prices to fall,' says Cormac Gilligan, solar supply chain senior analyst for IHS Technology. 'For example, in the U.S., lower-priced, large central inverters will account for an increasing share of inverter shipments over the next 15 months.'
Increased competition in China, the U.S. and other key growth markets – combined with stagnating markets in Japan and Germany – has exacerbated falling prices, IHS says. The growing acceptance of lower-cost Chinese suppliers is contributing to the price pressure on the industry. According to the report, 58% of all PV inverter buyers noted that Chinese inverters offered acceptable levels of quality compared with just 30% in 2013.
Inverter buyers historically have expressed concerns that Chinese inverter suppliers offer inadequate technical support and after-sales service. However, as more customers realize that Chinese inverters offer acceptable levels of quality, it is only a matter of time before they are selected as preferred suppliers by some of the leading solar lease suppliers and procurement firms, the report concludes.
'Leading Western suppliers offer inverters that meet the latest grid codes and offer a high-quality, after-sales service,' Gilligan says. 'Although Chinese inverters are gaining acceptance in terms of quality, Chinese companies must still offer competitive pricing to be considered by customers in new markets.'
However, although Chinese inverters are gaining acceptance, SMA Solar Technology was still the top brand globally for the fourth consecutive year.
For more information on the IHS PV Customer Insight Survey – 2015, click here.