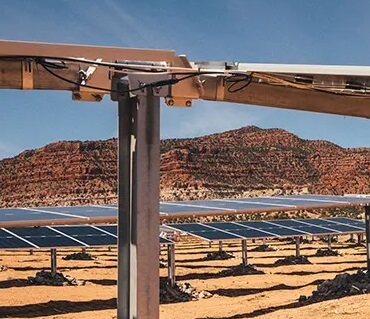 Solar tracker company Nevados Engineering Inc. has signed a strategic partnership and long-term agreement to supply its all-terrain solar trackers and energy optimization software to Ampliform, a U.S.-based solar project developer, operator and asset owner.
Ampliform has standardized on the Nevados platform for all of its tracker needs across every location in its near-term project pipeline of 700 MW for 2023-2025 construction, as well as its longer-term pipeline of 2 GW of projects under development.
"We selected Nevados because their all-terrain solar tracker eliminates the need for costly, risky and destructive mass grading for every site in our portfolio – and their team is a pleasure to work with," says Robert Stoever, senior vice president, EPC, of Ampliform. "Partnering with Nevados will make our solar investments more profitable while preserving the natural vegetation and topography of the land."
Nevados says it will be supplying 48 MW of all-terrain trackers for two Ampliform projects currently under construction in Pennsylvania. Nevados will also provide performance optimization with its TRACE software and full-service project management, design optimization and engineering support for all Ampliform projects.
"We are thrilled to support Ampliform because our product is a perfect match for their hilly portfolio," comments Yezin Taha, CEO of Nevados. "Yet the benefits of Nevados' technology and partner-centric business model go beyond the challenges of uneven terrain. Our integrated solar tracking platform will create new project opportunities for Ampliform by reducing their civil engineering and construction costs and improving system performance one row at a time."
Nevados says its solar trackers are designed to fully eliminate site grading in projects with uneven terrain, avoiding time- and cost-intensive permitting, construction and revegetation steps, as well as dramatically accelerating project schedules. The trackers feature proprietary bearings that allow for installation on slopes up to 37% with slope changes as great as 26% across a foundation, and row-specific tracking algorithms, controls and tilt schedules help improve energy yield.
The company adds that non-continuous torque tubes, shorter pilings and large tolerances simplify and speed up the installation process. Solar modules self-align during installation with top-clamp clips that can easily accommodate different module sizes.