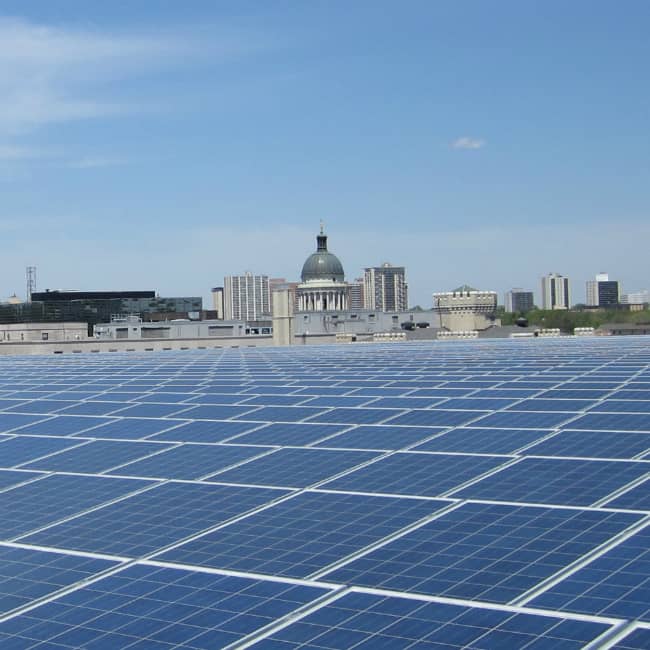 Caught between strong utility-scale project demand, declining solar incentives in distributed generation applications, module oversupply and significant policy uncertainty, the North American photovoltaic market is at a crossroads, according to NPD Solarbuzz.
'PV is now positioned to take significant market share from other energy sources as it approaches grid parity in some regions,' says Craig Stevens, president of NPD Solarbuzz.
'Downstream companies are facing enormous challenges to adapt to rapidly changing channel structure and business models in order to successfully participate in that opportunity.'
According to the company's most recent North America PV Markets Quarterly report, in the fourth quarter of 2011 (Q4'11), the North America photovoltaic market is forecast to grow 33% quarter-over-quarter (Q/Q) and 101% year-over-year (Y/Y). Q4'11 installations of more than 0.8 GW of PV capacity are expected, resulting in a total demand of over 2.2 GW in 2011.
The U.S. will account for 84% of North American demand in Q4'11, while Canada, dominated by Ontario, will account for the remaining 16%. California remains the largest single market in Q4'11, with 21% of market share. Ontario is forecast to become the second-largest region (16%), followed by New Jersey (11%).
Demand in the U.S. market has spread to many states beyond California, but in Canada, Ontario is 99% of the national market, which creates significant policy risk, according to NPD Solarbuzz.
The primary driver in Ontario has been the feed-in tariff (FIT), while U.S. states have been driven by a combination of policies and regulations at both state and federal levels. More recently, the U.S. federal government played a critical role in the solar marketplace, providing investment tax credits, cash grants, depreciation bonuses and loan guarantees as vehicles to make PV more financeable.
By the end of Q3'11, the federal government had cumulatively awarded over $1.4 billion in cash grants for solar systems, which is equivalent to 800 MW of installed capacity. The California Solar Initiative, the largest state-level incentive program in the U.S., has supported over 650 MW since its inception in 2007.
In Q4'11, ground-mount installations are forecast to have 38% of the market, followed by building-mount, non-residential systems (>100 kW), which will have 37% of the market, according to the report. The ground-mount segment benefited from demand from Ontario and from large-scale installations in California and Arizona geared toward meeting the state renewable portfolio standard requirements.
In Q3'11, the U.S. PV market grew by 32% from Q2'11 and could reach 1.9 GW for the year, which would mean that the market has doubled in size for the second consecutive year. For large-scale non-residential and utility-scale projects in Q3'11 and Q4'11, the scheduled expiration of the U.S. federal cash grant has encouraged progress to meet qualifying requirements. Ongoing installation will continue throughout 2012, stimulated by the progress requirements for these cash grants, the company says.
The next four quarters are expected to carry significantly more downstream uncertainty than normal. SolarWorld's Chinese anti-dumping complaint has split the U.S. PV industry, with clear evidence that some Chinese manufacturers and project developers have already started to delay shipments and installations.
Taken together with the expiration of the U.S. federal cash grant, deferral of module supplies awaiting a price bottom will slow 2012 growth. The North American market, however, is still forecast to triple in size by 2015, with the ground-mount installations securing the largest market share of 42%.
The Canadian market is continuing its growth in Q4'11 and is projected to increase 35% Q/Q and 33% Y/Y, as utility-scale projects continue development, most under Ontario's previous incentive scheme. The province's current incentive program, a FIT, stimulated approximately 16 MW of residential installations during Q4'11 and will continue to be Canada's primary driver of PV uptake.
Most attention is now focused on the FIT program's review, which is being conducted by the Ontario Power Authority, the report adds. Expectations are that FIT rates will decline, but other aspects of the policy, such as local content requirements, will remain largely unchanged.
Photo: 627.9 kW PV system on the top level of the parking garage located at One Bergen Plaza in Hackensack, N.J. Photo credit: Pfister Energy