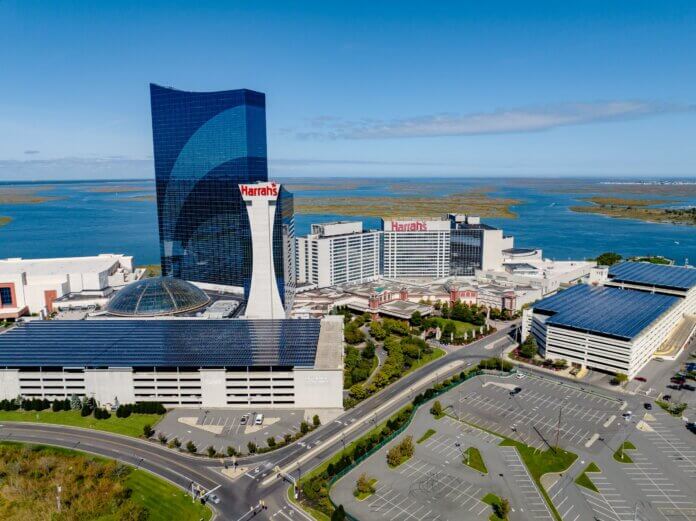 DSD Renewables has completed a 6.5 MW solar portfolio for Caesars Entertainment at the gaming company's Atlantic City destinations.
The installations are across two different Caesars Atlantic City properties on four canopies and will produce approximately 8.29 MWh of energy each year. A fifth canopy is currently under development and is slated to be complete in 2024, bringing the solar portfolio to 7.4 MW.
Caesars is one of the largest customers of local utility Atlantic City Electric, and these solar projects will offset approximately 6% of its energy needs for the resort properties in the area, taking energy load off the utility and making energy resources available for other customers.
The completed projects include 1.7 MW and 886 kW solar garage canopies at Caesars Atlantic City, and two installations at Harrah's Resort Atlantic City – a 1.9 MW solar canopy at Harrah's self-park garage and a 1.9 MW canopy at Harrah's valet garage. The effort also includes a 913 kW solar rooftop system at Harrah's Waterfront Conference Center that will be installed in early 2024.
The canopies will provide shaded parking for staff and customers and reduce snow removal costs, while the rooftop system will extend the roof's lifespan and reduce cooling needs by limiting UV exposure. With the existing structural layout, building heights, and the location of the project sites being in such close proximity to the coast, this created an added layer of complexity. DSD's in-house canopy team created custom engineering designs that were tailored to accommodate increased wind load and risk factors, with structural connections that allow steel and electrical systems to be elevated and protected from storms.
DSD financed and developed the installations and will serve as the long-term owner and operator.