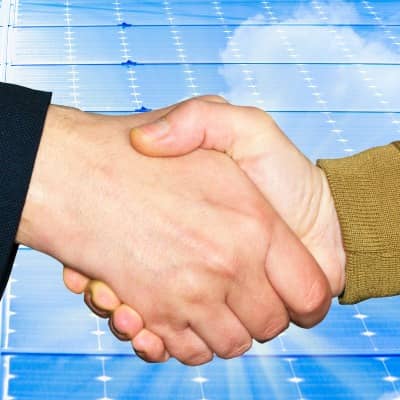 Financial analysts have predicted that 2015 is likely to be a very active year for mergers and acquisitions in the solar sector, with consolidation pulling together larger players in various market segments.
The commercial and industrial (C&I) solar segment is emerging as the new frontier, as developers look to build a business model in a post-2016 future that may not include an investment tax credit. Duke Energy's recent acquisition of a majority stake in REC Solar represents an early effort to shape the dynamics of that undiscovered country.
Marc Manly, executive vice president at Duke Energy and president of its commercial portfolio, says the investment will enable the company to extend its utility-scale development efforts into the C&I space.
'We're going to be offering the full suite of solar products from commercial and above to customers, and however they want it,' Manly says.
Historically, the C&I market has been the most difficult one from a developer's perspective. As businesspeople, owners tend to be focused squarely on the economics. Installations at C&I sites involve a wide array of ground-mount configurations and roof types. New technologies such as carport canopies, racking and mounting options, and inverter types have vastly expanded the range of system options. This has placed a strong focus on meticulous engineering and time-consuming documentation.
According to Manly, as Duke Energy performed due diligence in preparation for the REC Solar deal, it became apparent that it was possible to bring the same sort of economies and marketing approaches to the C&I space that the residential space currently enjoys. There was a time when even residential installations were 'unique snowflakes.' However, time and effort has streamlined residential projects considerably, enabling the rise of large and growing franchise-type providers.
'We and the REC Solar management team thought the same is going to happen in the commercial market,' he says.
Allen Bucknam, CEO of REC Solar, says his company's focus on the C&I space as a business decision with hundreds of projects under its belt has enabled it to develop some of the design, permitting and contract processes that are essential for success.
'The prime focus is the capital that Duke is making available to finance our customers' commercial projects and making that as seamless and as easy a process to deal with as possible,' Bucknam says.
Although the financial terms of Duke Energy's investment in REC Solar were not disclosed, the former has committed to making up to $225 million in commercial solar projects that are to be developed by REC Solar and supported by long-term power purchase agreements.
At the same time, Bucknam says the combination of the two firms means more than just access to cheaper capital to build project pipelines. 'One of the real benefits of having Duke as a strategic partner is their vast capabilities and expertise in a broad arena of distributed energy solutions,' he says.
Echoing this sentiment, Manly says Duke Energy is able to call on the other branches of the Duke for expertise in areas of transmission and distribution that will enable the partners to address extremely complex customer requirements. He points out that the C&I market encompasses the mom-and-pop store with the flat roof looking to benefit from tariffs and moves upstream to larger businesses and organizations – universities, hospitals, military facilities – focused more on sustainability commitments.
'We want to have that suite of services that can meet their needs,' Manly says. 'We just received [a request for proposals] from a university with a requirement for garage-mount, roof-mount and ground-mount with capacity wheeled in from a utility-scale farm to boot. I'm quite delighted because we now have the capacity to meet every single one of those requirements. I'm hoping our competitors don't.'
In the end, Duke Energy and REC Solar view their partnership as a necessity for what the future holds for C&I.
'If you just want to be a regional player post-2016, I think it's going to be a tough place to be,' Bucknam says. 'We're very happy to be in the right place at the right time in terms of teaming up with Duke and really taking a long view of both the solar and energy service markets way beyond 2016.'