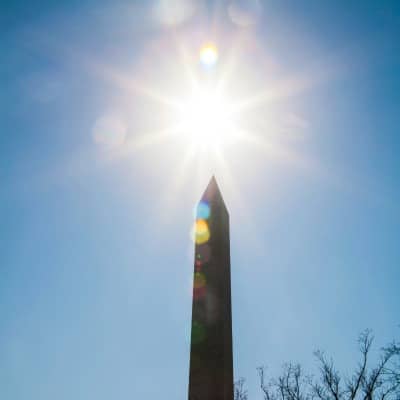 A trio of Washington, D.C.-based academic institutions has joined the growing list of businesses and corporations that have gone solar.
The George Washington University, American University and the George Washington University Hospital will receive up to 52 MW of output from three solar photovoltaic plants in North Carolina being developed and managed by Duke Energy Renewables. The so-called Capital Partners Solar Project includes three separate power purchase agreements (PPA) between Duke and the three entities.
The academic institutions indicate that purchasing solar PV generation provides cost savings and emissions reductions while demonstrating environmental stewardship. For example, the 20-year PPA provides fixed pricing at a lower total price than that of current power alternatives. Further, the savings will become even greater in the future as prices for traditional generation sources will likely increase.
'Thanks to this innovative partnership, the George Washington University will now derive more than half of all its electricity from solar energy,' says Steven Knapp, university president. 'This will greatly accelerate our progress toward the carbon neutrality target we had earlier set for 2025.'
Under the agreement, George Washington University will receive roughly 86.6 million kWh, American University will get 30 million kWh and George Washington University Hospital will receive about 6.3 million kWh annually.
Greg Wolf, president of Duke Energy Renewables, says the first of the three solar plants needed for the contract – a 20 MW PV solar project, located in Pasquotank County, N.C. – will be completed by the end of the year.
The remaining 32 MW, which will also be built in North Carolina, will be configured to meet the terms of the PPA, Wolf says.
Duke now owns approximately 170 MW of generating capacity at 21 U.S. solar plants, including 14 in North Carolina.
Another notable aspect of the agreement is that the solar power generated in North Carolina will flow to D.C. through Dominion Power's balancing area via grid operator PJM Interconnection.
'There is a significant amount of solar being built in North Carolina, and we're glad to be part of that,' Wolf says. 'At the same time, we recognize the utilities are working to integrate these new facilities, and they are working to do it with finite resources. We have a good relationship with Dominion and feel this partnership approach will enable our solar assets to achieve interconnection safely and on time.'