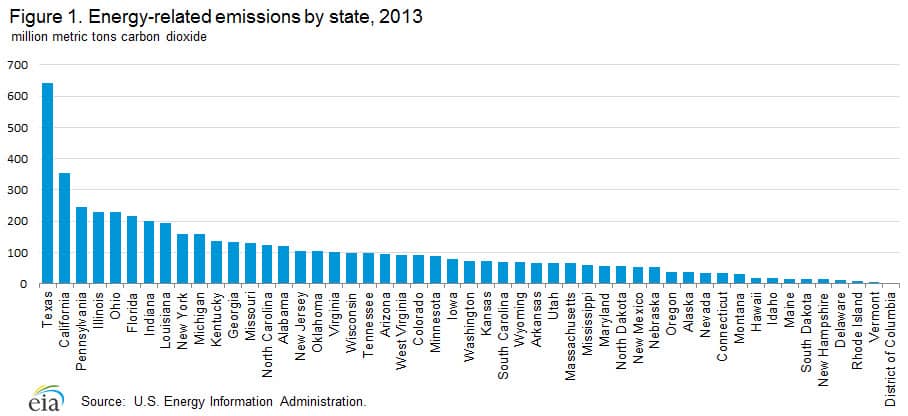 According to analysis from the U.S. Energy Information Agency (EIA), energy-related carbon dioxide (CO2) emissions fell in 37 states and rose in 13 states during the 2000 to 2013 period.
The greatest percentage decrease in CO2 emissions occurred in Maine at 27%, representing 6 million metric tons (mt). The greatest absolute decline was 52 million mt in New York (25%). The state with both the greatest percentage and absolute increase was Nebraska, at 28% (11 million mt).
Total state CO2 emissions include those from direct fuel use across all sectors, including residential, commercial, industrial and transportation, as well as primary fuels consumed for electric generation.
States exhibit very different emissions profiles by fuel type, the EIA report says. For example, in 2013, coal consumption accounted for 78% of CO2 emissions in West Virginia. In California, 1% of CO2 emissions came from coal, with 62% from petroleum. In Rhode Island, which had no emissions from coal, 47% of emissions were from natural gas. Hawaii's and Vermont's share of CO2 emissions from petroleum in 2013 were 92% and 91%, respectively. Maine's petroleum share was 77%. No other state's petroleum share exceeded 70%, the EIA reports.
Non-hydropower renewable energy sources experienced a major increase over the period studied in the EIA report. In 2013, California produced about 36% of the U.S. total of solar power (305 trillion Btu). Other leading solar energy states included Florida (16% of U.S. total), Arizona (12%) and New Jersey (8%). Although California dominated wind generation in 2000, the report says, the northern and southern plains have seen the fastest growth in recent years. In 2005, Texas and California generated about the same amount from wind, but in 2013, Texas generated almost three times the amount of electricity from wind as California, which had fallen to third behind Iowa.
The report's underlying state CO2 data can be found at here.