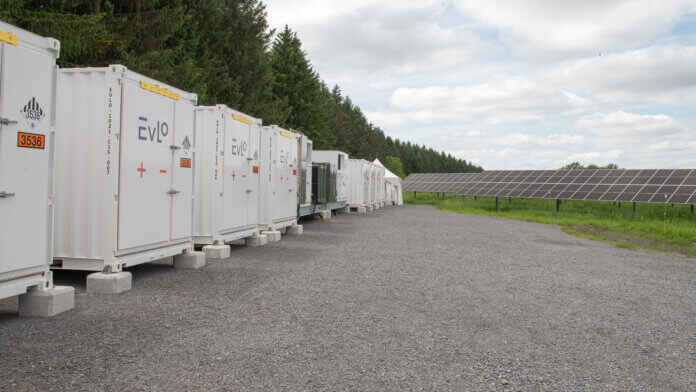 EVLO Energy Storage Inc., a battery energy storage company and a subsidiary of Hydro-Québec, is participating in a renewable energy project in Summerland, British Columbia.
EVLO is partnering with Wildstone Construction Group and solar panel installation contractor Skyfire Energy to provide the District of Summerland with its first utility-scale solar installation that combines battery energy storage system (BESS) technology to extend the system's output into the hours when energy demand is highest. The Summerland project includes a 0.4 MW solar array as well as four EVLO 1000 battery energy storage units and its proprietary EMS control system that will provide 4 MWh of storage capacity.
The storage system will enable peak shaving, which will eliminate short-term demand spikes and lower peak loads, reducing the overall cost of demand charges. The solar installation will be geo-ballasted, meaning no ground anchors or concrete will be needed during construction of the array, helping minimize the carbon intensity of the project. More than 80% of the construction team is based locally in Okanagan.
"We are honored to support this green energy initiative that stems from the district's vision. As our first solar plus storage installation in Western Canada, EVLO is proud to work alongside Wildstone to provide our leading energy storage solutions and industry expertise for this first-of-its-kind project for the Summerland region," says Sonia St-Arnaud, president and CEO at EVLO. "As we celebrate our second anniversary, this project builds upon our rapidly growing portfolio as we expand into markets throughout North America and abroad."
"Wildstone is thrilled to bring this solar plus storage project to Summerland and enter into the utility renewable energy space with our valued project partners, EVLO and Skyfire Energy," comments Mark Melissen, president at Wildstone. "Without their industry expertise and cost-effective solutions, none of this would have been possible."