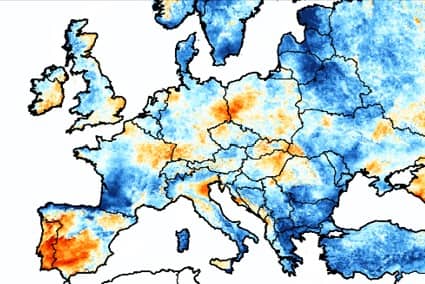 Significant performance decreases of 5% to 10% were experienced in Europe's largest solar markets following sub-par solar irradiance levels and harsh weather conditions throughout the first half of the year, according to new analysis from Finland-based Vaisala.
While irradiance levels improved considerably in the second quarter of the year for some key markets in Western Europe, German project operators continued to see below average performance throughout the entire first half of the year, Vaisala says.
According to the report, Germany was significantly impacted during the entire first half of the year by below average irradiance. Italy, France, the U.K., Spain and Belgium – other markets with a high concentration of operational solar capacity – also saw production shortfalls of up to 10% due to harsh weather. This situation was exacerbated by a delay in the arrival of warm, dry spring conditions – a common occurrence in years with above average snowfall, Vaisala says.
However, these latter five countries recovered in the second quarter with irradiance levels 5% to 10% above average, brought on by a high-pressure system over northwestern Europe. This caused many countries to see sunnier than normal conditions, while Spain and much of the Mediterranean experienced record warm temperatures.
'Not only does extreme weather necessitate a robust understanding of the root causes behind production deviations, it also makes it even more critical for operations and maintenance teams to make wise budgetary decisions and anticipate the kinds of conditions in store for them,' says Gwendalyn Bender, energy assessment product manager at Vaisala.