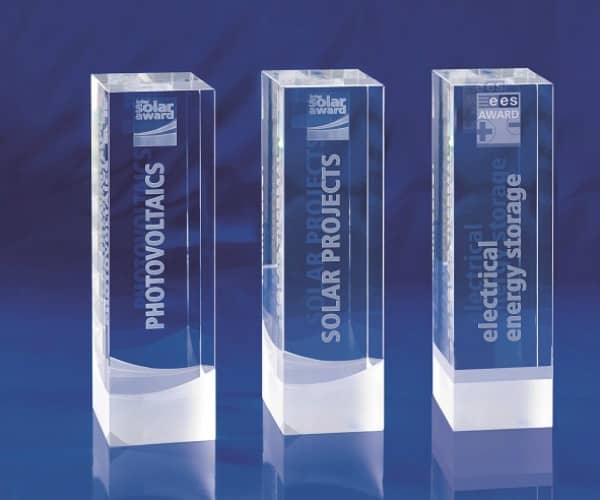 The finalists for the eighth annual Intersolar Awards have been announced. The prizes honor innovative solutions in the solar industry. The winners in the two categories of 'Photovoltaics' and 'Solar Projects in Europe' are to be declared at Intersolar Europe on June 10.
Intersolar says award submissions are indicative of how suppliers are developing new business models and services. Examples include weather forecasts for operation management and an online project exchange for selling solar projects internationally.
Finalists in the Photovoltaics category are as follows:
Fraunhofer Center for Silicon Photovoltaics CSP (Germany) for a test method to manufacture potential induced degradation-free solar cells;
HiQ Solar Inc. (U.S.) for an 8 kW three-phase string inverter with silicon carbide semiconductor technology;
Huawei Technologies Co. Ltd. (China) for an inverter with a European efficiency of 98.3% and a DC module output of 33.8 kW;
JinkoSolar Co. Ltd. (Germany) for a PV module in which the diode in the junction box has been replaced with a power management chip;
LG Electronics Deutschland GmbH (Germany) for its CELLO technology for lower electrical losses in modules;
Mouli Engineering Inc. (U.S.) for a substructure for gable roofs that does not require fixtures or roof penetration;
Power Electronics Espana S.L. (Spain) for a large-scale inverter with automatic master/slave operation;
REC Solar EMEA GmbH (Germany) for a new multicrystalline cell technology based on the use of half cells;
Renusol GmbH (Germany) for a new module clamp that can be used as a mid and end clamp; and
Roof Tech Inc. (U.S.) for a rail-free mounting system particularly for use with bitumen roofs.
The finalists in the Solar Projects in Europe category are as follows:
IBC Solar AG (Germany) for a commercial building not connected to the power grid with a solar installation, biogas CHP unit and large-scale storage device;
Ritter Energie- und Umwelttechnik GmbH & Co. KG (Germany) for tube collectors to use in steam generation in the commercial sector;
Robert Bosch GmbH – Stationary Energy Storage (Germany) for a modular storage system that can be optimized and adapted according to consumption and available space;
Samsung SDI Co. Ltd. (Korea) for large-scale electrical storage system to provide short-term balancing power;
SolarEdge Technologies Inc. (Israel) for solar carports in the grounds of TSG 1899 Hoffenheim's Wirsol Rhein-Neckar Arena;
SolarEdge Technologies Inc. (Israel) for a facade-integrated PV system at TU Wien (Vienna University of Technology); and
solarnova Deutschland GmbH (Germany) for its Aktiv-Stadthaus energy-plus apartment building in Frankfurt am Main; and
STEPS e.U. (Austria) for its solar facades analysis program in Vienna.
The Intersolar Award is presented by the organizers of Intersolar. Products, projects, services or solutions may be submitted by exhibitors from all international Intersolar and ees exhibitions taking place in 2015. Projects must be fully completed and no older than two years at the time of the application.