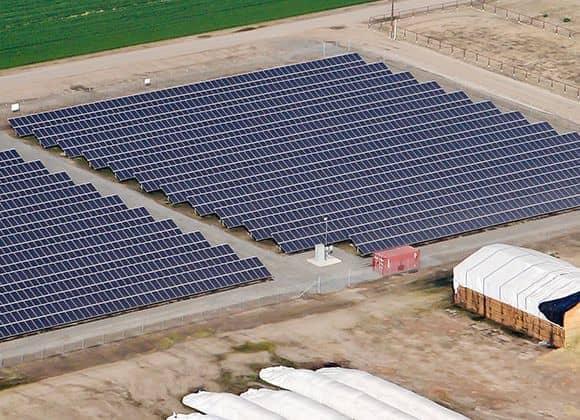 Rocklin, Calif.-based Coldwell Solar Inc. has completed a 962 kW solar installation at SBS Ag Dairy under Southern California Edison's (SCE) net-energy metering (NEM) aggregation program.
The NEM aggregation program allows a single generating facility of up to 1 MW to offset electricity usage at aggregated meters located on the same property – or on properties adjacent or contiguous to the property where the generating facility is located – as long as the same utility customer owns, rents or leases each property.
The SBS Ag Dairy solar project ties into the operation's barn meter with the excess generation applied to 12 other meters located on the same property. The project is expected to generate 1.4 MWh of electricity per year, offsetting up to 90% of the dairy's annual energy consumption.
SBS Ag Dairy is projected to receive approximately $179,000 in state-provided initiatives to cover the cost of the system installation.
'Solar had become the best option to lower operating costs, plus support the environment by using renewable energy,' says Sean Nicholson, owner of SBS Ag Dairy. 'It fit in our business plan, and the savings are huge for our business.'