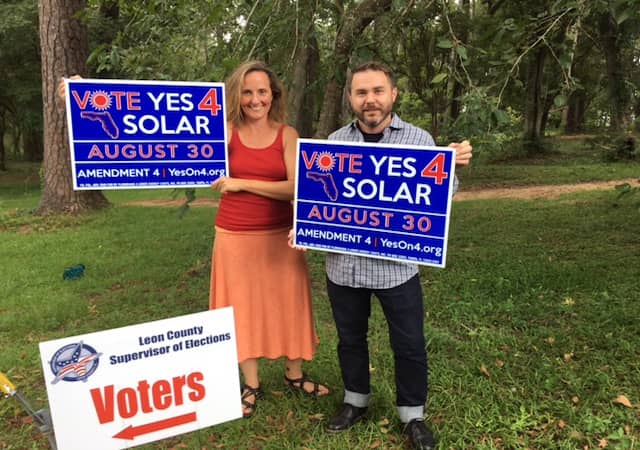 On Thursday, the Florida legislature officially approved a bill to implement the pro-solar Amendment 4, which voters overwhelmingly passed with 73% of the vote on the August 2016 primary ballot. The bill, S.B.90, is slated to reduce tax barriers for Floridians who want to go solar while also ensuring proper consumer protections are in place. The legislation now heads to Gov. Rick Scott, R-Fla., who can sign, veto or allow the bill to become law without his signature.
The victory again highlights the power of grassroots campaigns. Thanks to the leadership of state Sen. Jeff Brandes and Rep. Ray Rodrigues, as well as the support of hundreds of businesses, solar advocates and thousands of volunteers, Floridians will likely enjoy lower energy costs as burdensome taxes on solar energy systems are reduced beginning Jan. 1, 2018, according to the Southern Alliance for Clean Energy.
"We applaud Florida lawmakers for implementing this important constitutional amendment in the closing days of the legislative session," says Dr. Stephen A. Smith, executive director of the Southern Alliance for Clean Energy and board member of Floridians for Solar Choice. "The importance of moving this forward cannot be overstated: With lower taxes for homeowners and businesses, solar energy development will increase, allowing Floridians to lock in energy savings, create jobs, spur economic development, and bring much-needed diversity to the state's energy mix."
"The implementation of Amendment 4 is a win for the solar industry in Florida," adds Patrick Altier, president of the Florida Solar Energy Industries Association. "Our membership of Florida solar companies has been working tirelessly in the legislature, with solar advocates, and many other coalition partners over the past several years, fighting for good policy."
In addition to local advocacy groups, national organizations Solar Energy Industries Association (SEIA) and Vote Solar have been supportive throughout the process.
"The Florida legislature took a historic step forward today to expand solar across the state while recognizing Floridians' desire for more choice over their energy options. And, importantly, the bill includes strong protections and increased transparency for consumers, helping ensure they fully understand solar transactions," says Tom Kimbis, executive vice president of SEIA. "Consumer protection is both the right thing to do and critical to the success of the industry, and we congratulate the Florida legislature for advancing these protections without creating burdensome red tape for small businesses."
"Last August, Florida voters called for solar progress in one of the most popular amendments in the Sunshine State's history," says Scott Thomasson, Southeast director at Vote Solar. "We applaud Senator Jeff Brandes and House Majority Leader Ray Rodrigues for their leadership in working with all sides to pass a balanced bill that respects the will of the voters they serve while also protecting customers. Now, it's up to Governor Rick Scott to honor the voters' overwhelming support for solar development and deliver on the promise of more jobs and energy choices across Florida."
Amendment 4 wasn't the only major solar victory achieved through grassroots efforts in Florida last year. After passing that ballot initiative last August, voters also rejected Amendment 1, a utility-backed proposal, in November.
Photo courtesy of Florida Conservation Voters: Florida voters overwhelmingly approved Amendment 4 in August 2016.