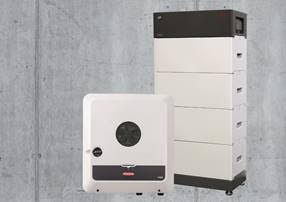 Fronius has released its GEN24 Plus hybrid solar inverter coupled with energy storage from BYD, which the company describes as an "all-in-one solution for comprehensive solar self-sufficiency."
The GEN24 Plus will be available in both a single-phase Primo version and a three-phase Symo version. It features a range of grid back-up options and integrated, open interfaces. The inverter can also be optioned to tie into BYD's Battery-Box Premium to form a storage system that is "setting new standards in terms of versatility and performance."
"With the GEN24 Plus, we are introducing a truly global hybrid inverter onto the market that will enable us, together with BYD, to implement impressive storage solutions in both single-phase and three-phase markets around the world," says Martin Hackl, head of solar energy at Fronius International GmbH.
"We are particularly proud of the grid back-up options, with either PV Point or real grid back-up."
All GEN24 Plus hybrid inverters are equipped with a battery connection, energy management, monitoring and open interfaces for hot water heating, an electric car wall box and home automation tools. The single-phase Primo GEN24 Plus will be available in power categories from 3 kW to 6 kW, and the three-phase Symo from 6 kW to 10 kW.
The BYD Battery-Box Premium storage systems comprise individual storage modules built according to requirements and can be combined with the GEN24 Plus in two different designs: the Battery-Box Premium HVS (from 5.12 kWh to 10.24 kWh) and the Battery-Box Premium HVM (from 11.04 kWh to 22.08 kWh).
The products will be available at the end of the second quarter of 2020.