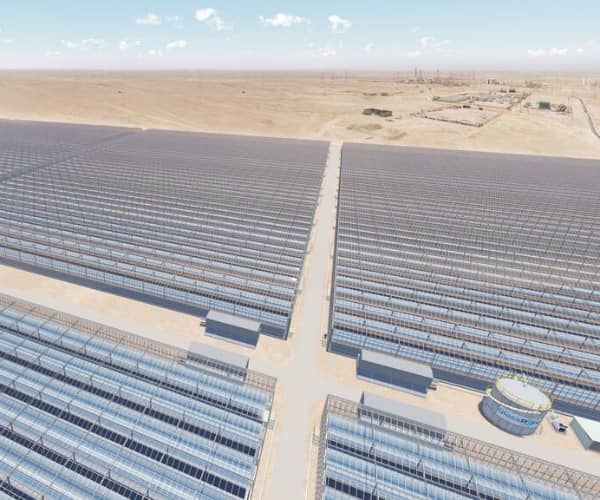 GlassPoint Solar has contracted with Petroleum Development Oman (PDO) to build a 1 GW solar thermal facility for enhanced oil recovery operations in the sultanate.
The Miraah – meaning mirror in Arabic – facility will be a trough-based concentrating solar power (CSP) system designed to produce steam used in the recovery of oil locked in rock formations at the Amal oil field in southern Oman. GlassPoint has developed industrial-scale CSP systems with components enclosed in a series of greenhouses to protect them from the harsh elements.
The project will generate an average of 6,000 tons of solar steam daily for oil production. The system will deliver steam to Amal's existing thermal enhanced oil recovery operations, meeting a sizable portion of the field's steam demand. The full-scale project will comprise 36 glasshouse modules, built and commissioned in groups of four.
GlassPoint is scheduled to break ground on Miraah this year, with steam generation from the first glasshouse module expected in 2017.
PDO has been working with GlassPoint since 2010 on a pilot project at Amal to test the commercial viability of the technology. The 7 MW solar steam pilot plant will continue to operate at Amal alongside the full-scale development project. Once complete, Miraah is expected to save 5.6 trillion Btus of natural gas each year.
'The use of solar for oil recovery is a long-term strategic solution to develop PDO's viscous oil portfolio and reduce consumption of valuable natural gas, which is needed elsewhere to diversify Oman's economy and create economic growth,' says Raoul Restucci, managing director of PDO. 'It also will displace diesel and higher carbon-intensive power generation and oil burning in future thermal projects.'