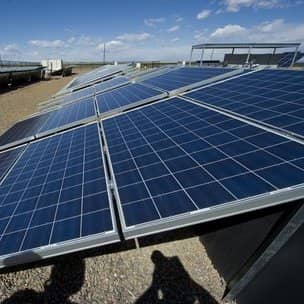 Global solar photovoltaic demand in 2012 reached 29 GW – an increase of only 5% year-over-year compared to 27.7 GW in 2011, according to findings within the upcoming NPD Solarbuzz Marketbuzz report. This is the first time in a decade that year-over-year market growth in the PV industry has been less than 10%, NPD Solarbuzz says.
'During most of 2012, and also at the start of 2013, many in the PV industry were hoping that final PV demand figures for 2012 would exceed the 30 GW level,' says Michael Barker, senior analyst at NPD Solarbuzz.
'Estimates during 2012 often exceeded 35 GW as PV companies looked for positive signs that the supply-demand imbalance was being corrected and profit levels would be restored quickly,' he continues. 'Ultimately, PV demand during 2012 fell well short of the 30 GW mark.'
Despite an environment of declining incentives during 2012, Europe remained the largest regional market, with 16.48 GW of PV demand – almost 60% of global demand last year. (Europe represented 68% of global demand in 2011 and 82% in 2010.)
The second largest region for PV demand was Asia, with 8.69 GW. This region was stimulated by the growth of the Chinese end-market during the second half of 2012.
PV demand from the Americas is now segmented across North America (U.S. and Canada), Latin America and the Caribbean region. The Americas provided 13% of global PV demand in 2012, or 3.68 GW.
However, a large portion of PV demand from the Americas came exclusively from California, where demand was driven by renewable portfolio standards and rebates. In fact, California provided more than one-third of all PV demand from the entire Americas region during 2012.
The future
Despite falling short of 30 GW, PV demand during 2012 set another annual record for the industry, according to the report.
Indeed, the 29 GW of demand added during 2012 is nearly 30% of all installed PV capacity at the end of 2012. However, the demand level of 29 GW in 2012 should be compared directly to the level of supply that upstream manufacturers were expecting during the year, NPD Solarbuzz adds.
'For supply and demand to have been balanced during 2012, end-market demand should have approached the 45 GW level,' notes Barker. 'This is 50 percent higher than actual PV demand in 2012 and reflects the lack of demand elasticity that characterizes the PV industry today.
'It also explains why even those companies that gained market-share in 2012 still ended up reporting significant operating losses,' he adds.
NPD Solarbuzz forecasts that the PV industry will see rapid globalization this year, incorporating growth from new regions including Latin America, the Middle East and Africa, and emerging Asian markets.
However, uncertainties still exist in many of these regions that will impact the rate of adoption of renewables and exactly how much solar PV will be added.
'The role of emerging regions will be pivotal to PV industry supply and demand during 2013 and will offer a leading indicator for how quickly the industry can exceed the 30 GW annual run-rate level,' says Barker.
Photo credit: National Renewable Energy Laboratory