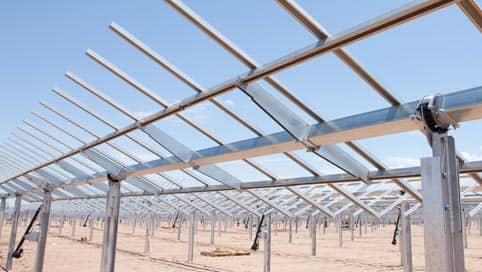 Global single-axis tracker revenues are expected to grow 120% to reach nearly $2 billion in 2019, according to a new report from IHS Technology.
For the first time, single-axis trackers will be the preferred type of ground mount for solar photovoltaic installations in the Americas in 2015, IHS says. Overall, global ground-mount projects are forecast to increase an average of 7% per year, reaching 33 GW in 2019. Utility-scale installations will account for 73% of this total.
According to the report, the global market for ground-mount structures will continue to be dominated by fixed-tilt structures, which will account for 67% of total. Single-axis tracker installations are forecast to provide just over 9 GW in 2019, driven mainly by the growth of utility-scale installations.
The U.S. will be the largest global market for single-axis trackers in 2019, accounting for 36% of all global installations, IHS says. Sunpower, First Solar and other top engineering, procurement and construction companies are leading the charge in the U.S. market, with Nextracker, Clavijo and other suppliers also currently promoting single-axis trackers in large utility-scale installations.
'The U.S. leads growth in the single-axis tracker market,' says Cormac Gilligan, senior analyst for the solar supply chain at IHS Technology. 'Chile, Mexico and other emerging markets that have high irradiation are also favoring single-axis trackers, especially as prices have fallen rapidly in recent years.'
Although Chile and other emerging markets favor single-axis trackers, larger Asian markets – such as China and India – currently prefer fixed-tilt trackers due to the abundance of large domestic steel manufacturers that can manufacture them cheaply, IHS says. In India and other markets with low labor costs, suppliers such as Tata International are installing seasonally adjusted non-motorized trackers, which allow the angle of trackers to be changed periodically by hand.
As these large Asian markets develop, IHS expects installations with single-axis trackers to increase rapidly, as existing suppliers develop new products as new suppliers enter the market.
For more information about the report," PV Balance of System Equipment – 2015," click here.